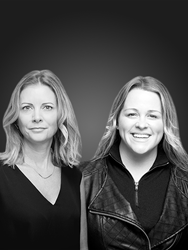 SAN FRANCISCO (PRWEB) December 14, 2017
Haute Residence welcomes prominent real estate agents, Rachel Swann and Michelle Long to its exclusive network of top brokers. As Haute Residence partners, Swann and Long represent the exclusive real estate markets in Nob Hill, Noe Valley, and Russian Hill in San Francisco, California.
Swann and Long have both reaped professional success on their own, and have recently joined their expertise as a team at The Agency, where Swann is the Managing Partner of the firm's first San Francisco office in Noe Valley.
Swann and Long combine over three decades of esteemed track record in the industry. While Swann moved to San Francisco in 2005, Long is a third-generation resident of the city. Yet, they both possess incomparable local knowledge and a true passion for the area.
A long-time Haute Residence partner, Swann has served clients in some of the most coveted neighborhoods of Noe Valley, Mission Dolores, Duboce Triangle and Hayes Valle. And so has Long. Her extensive broker experience covers homes, condominiums, Tenants in Common, and apartment buildings.
Working together and tending to loyal high-profile clients, Swann and Long offer in-depth knowledge of the dynamic real estate market in San Francisco, and unexcelled professionalism that translate into multi-million transactions, be they primary residence purchases or investment deals.
About Haute Residence:
Designed as a partnership-driven luxury real estate portal, Haute Residence connects its affluent readers with top real estate professionals, while offering the latest in real estate news, showcasing the world's most extraordinary residences on the market and sharing expert advice from its knowledgeable and experienced real estate partners.
The invitation-only luxury real estate network, which partners with just one agent in every market, unites a distinguished collective of leading real estate agents and brokers and highlights the most extravagant properties in leading markets around the globe for affluent buyers, sellers, and real estate enthusiasts.
HauteResidence.com has grown to be the number one news source for million-dollar listings, high-end residential developments, celebrity real estate, and more.
Access all of this information and more by visiting: http://www.hauteresidence.com