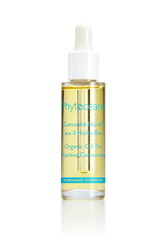 ...immediate comfort and long-lasting hydration to dry and dehydrated skin.
SAINT- MALO, FRANCE (PRWEB) December 15, 2017
Phytoceane's Organic-Oil-Trio Nutritive Concentrate offers immediate comfort and long-lasting hydration to dry and dehydrated skin. This fragrance-free formulation contains organic glasswort oil, safflower oil and sesame oil to improve the skin's water circulation and storage. A free-radical fighting formula, it can be applied alone or before usual facial cream, depending on the season and the needs of the skin. This organic dry oil gives skin the nourishment it needs while leaving a light, satin finish.
Phytocéane Organic-Oil-Trio Nutritive Concentrate......30 ml, suggested retail price $50.50
Directions for use: apply a few drops morning and evening to perfectly cleansed face and neck.
Key ingredients:

Organic Glasswort Oil - marine oil extracted from the seaside plant. Improves water circulation and storage into the epidermis.
Organic Safflower Oil - vegetal oil extracted from plant acts as emollient, offering hydrating properties.
Organic Sesame Oil - vegetal oil that fights against skin dryness and provides anti- free radicals.
Jania - highly moisturizing vegetal coral.
Phytocéane at a glance:
Nestled in the heart of the Emerald Coast in France, Phytocéane embodies the region's timeless tradition of travel, escape and discovery. This professional, naturally-based facial and body care line utilizes resources and ingredients found in the most pristine, beautiful seas around the world. We are one of the only spa brands with our own laboratory, allowing us to research and cultivate our own ingredients, develop unique cosmetic formulas, manufacture skin care products and create cutting-edge professional treatments to deliver remarkable results.