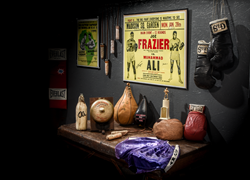 It has been one of the most exciting experiences of my life discovering items from the early life and career of Muhammad Ali... it is safe to say this is the largest and most historic collection of young Cassius Clay memorabilia ever offered for sale. -Consignor Gary Traugh
DENVER, Pa. (PRWEB) December 14, 2017
Morphy Auctions, the finest auction destination for fresh to the market collections, is excited to announce that it will be offering the Gary Traugh Cassius Clay Collection as part of its upcoming March 24, 2018 Sports Memorabilia sale. Over 150 authenticated and outstanding selections will be on offer as part of this world-class event. Morphy's Sports Memorabilia division is an emerging leader in this important auction category as demonstrated by its October 28, 2017 debut sale which generated $718,000+. All lots from this March event will be on display and available for preview in Morphy's Denver auction gallery starting in February, 2018.
Muhammad Ali (1942-2016) was born Cassius Marcellus Clay Jr. In 1960, at 18 years old, he rose to fame by winning an Olympic gold medal in boxing at the Rome Summer Games. He turned professional shortly after. By 1964, he had won heavyweight championship titles from the World Boxing Association and World Boxing Council and was considered the undisputed heavyweight champion of the world. He would go on to be the only three-time lineal heavyweight champion in boxing. Although it has been three years since his passing, his legacy, popularity, and influence are still as strong as ever.
The Traugh Collection includes a wide and carefully curated array of Cassius Clay materials through 1964. Gary Traugh had a close, personal relationship with Muhammad Ali, and assembled hundreds of one-of-a-kind, museum quality articles from the beginnings of Ali's climb to international celebrity. There is no doubt that Ali enthusiasts, sports memorabilia collectors, museums, and historical and political organizations will be competing for the rarities on offer. Just a few of these outstanding opportunities include:

Several pairs of Clay's fight worn boxing gloves, including Golden Gloves worn pairs.
A selection of training used items, from Clay's Louisville and Deer Lake facilities, including bags, gloves, jump ropes, a ring bell, and a mouthpiece.
A significant circa 1960s ring record glove signed "Cassius Marcellus Clay."
Historically important document which Clay requests his name be changed from "Cassius Clay" to "Muhammad Ali" for the Brian London fight held in August, 1966 at Earl's Court Exhibition Hall in London.
The earliest known pair of Cassius Clay worn trunks. 
According to Kevin Bronson, Morphy's Sports Memorabilia Consultant and trusted veteran industry expert, "This is a truly exceptional collection focused on the early part of Muhammad Ali's career. It includes some of the most significant collection of Cassius Clay items assembled. Ali materials at auction always generate enormous interest, and I am certain that bids for these will be coming in from all over." Consignor Gary Traugh continues, "It has been one of the most exciting experiences of my life discovering items from the early life and career of Muhammad Ali. Much of Ali's life is undocumented prior to 1960; as such, it is safe to say this is the largest and most historic collection of young Cassius Clay memorabilia ever offered for sale. It's both exciting and bitter sweet, as searching for and collecting these items has been a large part of my life, but the world deserves to see and know these items still exist. I am delighted that Morphy's is handling these treasures, and it's going to be an extraordinary interesting sale indeed."
 
About Morphy Auctions:
Morphy Auctions, the finest auction destination for fresh to the market collectibles, is headquartered in Denver, PA. The company also has a satellite office in Las Vegas, NV. A full-service auction house, Morphy's presents over 35 premier auctions annually. The company's three-part mission includes ensuring consignor satisfaction with every auction, offering world-class customer service that goes above and beyond the call of duty, and providing relentless buyer support to create confidence for all clients seeking a trustworthy purchasing experience.
Morphy's team of specialists includes the nation's finest and most recognized experts in popular collecting categories including advertising; firearms; fine automobiles, automobilia and petroliana; coin-operated machines; antiques, fine, and decorative art; dolls, bears, toys, and trains; cast iron; coins; marbles; jewelry and wrist watches. Morphy Auctions is owned by President and Founder Dan Morphy, himself a lifelong and passionate collector of antiques, banks, and numerous other categories.  Morphy's has been in business since 2004 and has grown from two to over 65 employees in over a decade.
Morphy Auctions is located at 2000 North Reading Road, Denver, PA 17517.  We can be reached by phone at 877-968-8880, by fax at 717-336-7115, and by email at info@morphyauctions.com.  Our auction gallery is open seven days a week: Monday through Friday from 9am to 4pm and Saturday and Sunday from 9am to 1pm.  For more information on Morphy's, please visit http://www.MorphyAuctions.com.