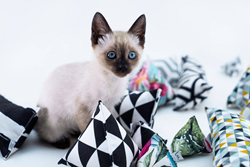 LONDON (PRWEB UK) 18 December 2017
Minoumi – Designed Cat Toys are combining the love of cats and design.
Their toys are providing lots of fun for cats and their humans, too – they designed their cat toys for catlovers, who really care for Interior-, product-, graphic- and fasiondesign.
But minoumi.com [Minoumi __title__ ] isn't just about cool looking design! Their catnip toys are pyramid shaped and constantly moving.
With their functional and well designed toys they wish to improve the live of their beloved feline friends by creating an environment for cats, that keeps them happy, healthy and busy – without compromising on their own sense of style and design.
To help make these toys reality checkout the Kickstarter Campaign which contains further details about the campaign and it's progress. The campaign can be backed until the 4th of January 2018