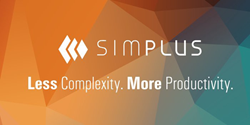 "This partnership offers strong support for our business and is the perfect time for us to team up with experts in Salesforce CPQ implementation."
SALT LAKE CITY and CINCINNATI (PRWEB) December 15, 2017
Simplus, a Platinum Salesforce CPQ implementation leader, and enosiX, an SAP integration accelerator software firm, today announce a new strategic partnership.
The combination of Simplus's Salesforce CPQ implementation expertise and enosiX's intelligent real-time SAP integration platform allows companies to quickly optimize their CPQ installation through rapid design and deployment. Unlocking critical real-time SAP data provides frontline sales teams with the information to drive deals — increasing revenue and improving customer service.
"We value enosiX's commitment to efficiency and could not be more pleased with how this partnership will enhance our Salesforce CPQ implementations," said Kyle Hanagarne, executive vice president of professional services at Simplus. "Timing is vital in sales. The real-time integration of SAP data gives companies a competitive edge."
Bridging the gap between displaying data and leveraging true bi-directional SAP business processes, enosiX delivers a disruptive approach to how enterprises provide SAP data to Salesforce users. As Gerald Schlechter, enosiX CEO and co-founder said, "The days of moving data from one application to the other are a thing of the past. Traditional integration approaches such as ETL take too long and inhibit innovation. We view enosiX as the key to unlocking SAP data in the Quote-to-Cash process — showing enterprises a leaner effort to shorten integration timelines, saving them tremendous resources."
Gerald Schlechter, CEO of enosiX, sees this as an important partnership for his SAP integration company. "This partnership offers strong support for our business and is the perfect time for us to team up with experts in Salesforce CPQ implementation. We are looking forward to rapidly bringing simplified, yet powerful capabilities to enterprises, leveraging their SAP logic and data in real-time – fully utilizing the front-end capabilities of Salesforce."
Salesforce and others are among the trademarks of salesforce.com, inc.
About Simplus
Simplus is a Platinum Salesforce Partner and the industry leader in Quote-to-Cash implementations. We provide enterprise-wide digital transformation across the Salesforce ecosystem through advisory, implementation, change management, custom configuration and managed services. Guided by the mantra "Success Simplified," we use leading cloud solutions to help companies achieve a strategic vision, improve performance and increase value to stakeholders. With more than 2,000 clients and a customer satisfaction rating in the top 1 percent of all Salesforce partners, Simplus helps companies improve, innovate and grow. For more information about Simplus, please visit http://www.simplus.com.
About enosiX
Based in downtown Cincinnati, enosiX is a software development firm focused on accelerating SAP integration, enabling seamless, real-time business-process based integration between SAP and front-end platforms like Salesforce and native, mobile applications. Our platform takes the complexity of SAP and simplifies it in an intelligent, SAP-certified solution, without requiring middleware or additional infrastructure. We are empowering the enterprise of the future by transforming their SAP integration trajectories. More than 100 companies around the world are using the enosiX framework to accelerate revenue growth. For more information, please visit http://www.enosiX.com.
SAP, SAPPHIRE and all SAP logos are trademarks or registered trademarks of SAP AG in Germany and in several other countries. All other product and service names mentioned are the trademarks of their respective companies.
Salesforce, Salesforce CPQ, Sales Cloud, and others are trademarks of salesforce.com, Inc., and are used here with permission.