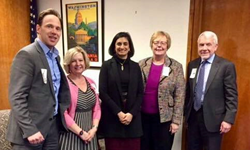 MISHAWAKA, Ind. (PRWEB) December 21, 2017
On Wednesday, December 13, 2017, Mark Murray, President/CEO of Center for Hospice Care (CHC) joined members of the National Hospice and Palliative Care Organization (NHPCO) in a meeting with Centers for Medicare and Medicaid Services (CMS) Administrator Seema Verma in Washington D.C.
The meeting focused on hospice and palliative care providers as key resources for delivering high-quality, compassionate care to individuals and their families who are facing life-limiting illness, as well as how they are poised to be an even bigger part of the health care system in the future.
"It was an honor to have had the opportunity to represent more than 6,000 hospice agencies," said Murray. "Center for Hospice Care is proud to be recognized as one the nation's leaders in Hospice and Palliative Care. CHC is Indiana's largest independent, not-for-profit hospice and ranks in the top 3% of all hospices in the country in terms of the number of patients and families served each year. We're grateful to have been invited to discuss the importance of hospice and palliative services in the continuum of end-of-life care."
Mr. Murray is past board chair of NHPCO and currently serves on the board of directors for the Hospice Action Network (HAN) which advocates for policies that ensure the best care for patients and their families. NHPCO's President and CEO Edo Banach and others representing the NHPCO also participated in the meeting.
Among items discussed with Ms. Verma and her staff was how hospices can be involved with patients earlier in their disease process, the need for better care navigation and coordination, and future meetings with her staff to continue partnering efforts.
Ms. Verma later tweeted, "I enjoyed meeting with the National Hospice and Palliative Care Organization and look forward to working together."
About Center for Hospice Care
Established in 1978, Center for Hospice Care is an independent, community-based, not-for-profit organization, improving the quality of living through hospice, home health, grief counseling, and community education. With offices in South Bend, Plymouth, Elkhart and Mishawaka, CHC serves Elkhart, Fulton, Kosciusko, LaGrange, LaPorte, Marshall, St. Joseph and Starke counties in Northern Indiana.