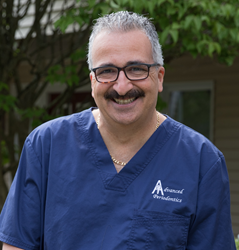 MONROE, Conn. (PRWEB) December 21, 2017
Dr. Richard Amato, experienced periodontist in Monroe, CT, is encouraging patients in Fairfield and New Haven Connecticut who are in need of bone grafting or dental implants to consider the benefits of Piezosurgery®. Focusing on a gentle approach to dental treatments, Dr. Amato offers patients multiple minimally invasive options for care including Piezosurgery, laser therapy, and the Chao Pinhole® Surgical Technique. Piezosurgery technology allows Dr. Amato to gently reshape bone tissue without harming soft tissues like the gums or sinus membrane.
Piezosurgery is a state-of-the-art technology that uses ultrasonic micro-vibrations that cut through bone without damaging surrounding soft tissue. This technology gives Dr. Amato the ability to perform treatments like a sinus lift or dental extraction with minimal discomfort and chance of damage. Traditional bone surgery involves using drills and burs to cut bone, but can result in the loss of soft and hard tissue. Piezosurgery can be used for a variety of procedures, including:

Dental implant preparation
Sinus lifts
Tooth extractions
Bone Grafts
Crown lengthening
Periodontal therapy
For those patients needing dental implants in the upper back molar region, a sinus lift may be recommended. When jaw bone deterioration occurs at this site, the sinus cavity fills the space left by the receding bone. Dr. Amato utilizes Piezosurgery to gently cut through the bone tissue without damaging the fragile sinus membrane. This allows him to safely lift the sinus cavity and reinforce the area with a bone grafting procedure.
"What used to be a stressful, surgical visit, is now a simplified series of steps following a well-established protocol to ensure an outstanding result," said Dr. Amato on dental implant surgery.
Patients seeking dental implants or other periodontal needs are encouraged to seek advanced treatment from an experienced periodontist in Monroe, CT. Dr. Amato has limited his practice to periodontics and dental implant placement services with an emphasis on minimally invasive procedures, such as Piezosurgery. Those interested in Piezosurgery for their treatment needs are invited to schedule an appointment with Dr. Amato by calling his practice at 203-712-0917 or visiting http://www.connecticutperiodontist.com.
About the Periodontist
Dr. Richard Amato is a leading periodontist and dental implant specialist who provides personalized dental care using the most advanced technology for patients at Advanced Periodontics and Dental Implant Center of Connecticut LLC in Monroe, Connecticut. He has placed thousands of dental implants since 1989. Dr. Amato earned a DDS degree from Stony Brook University. He then completed a full-time multi-year specialty residency and received his Certificate of Proficiency in Periodontics from Eastman Institute of Oral Health at the University of Rochester. He belongs to the one percent of dentists in the USA currently providing the first FDA-cleared laser procedure for gum disease treatment. Dr. Amato is the first and most experienced provider of LANAP® therapy in Fairfield County, Connecticut as well as the first Periodontist to provide the Pinhole® Surgical technique in CT. To learn more about Dr. Amato and his dental services, visit his website at http://www.connecticutperiodontist.com and call 203-712-0917.