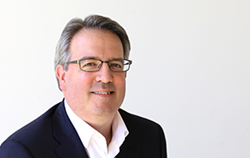 "Having the opportunity to work on technology that will be so transformative in such a short time is an exceptionally rare experience and one I'm thrilled to take on," said Rice. "To do so with trusted leaders like Andrew and Doug, and with the proven excellence of this platform is amazing."
SAN FRANCISCO (PRWEB) December 20, 2017
Ever AI, launched in September to help enterprise customers build services that rely on best-in-class facial recognition, today announces Charlie Rice as its new Chief Technical Officer. Rice joined shortly after Softbank Robotics signed Ever AI to help Pepper, its humanoid robot, better engage with the world. As 2017 comes to a close, dozens of other companies have projects queued to be launched next year.
"Charlie's a phenomenal team builder," said Andrew Dudum, COO of Ever AI. "His superlative ability is already on display as he builds our mighty team and uses his solutions-oriented mindset to help partners fundamentally shape how we interface with our devices and the world around us."
Rice joins from Gametime United, where he served as VP of Engineering, a position he held previously at Minted, following senior engineering roles at both Amazon and Verisign.
"Having the opportunity to work on technology that will be so transformative in such a short time is an exceptionally rare experience and one I'm thrilled to take on," said Rice. "To do so with trusted leaders like Andrew and Doug, and with the proven excellence of this platform is amazing."
Developed over 4 years and trained on Ever's consumer data set of more than 12 billion photos and videos, Ever AI's facial recognition rivals that of Amazon, Apple, Facebook, and Google – but is the first of its grade available to outside enterprises. Customers can access Ever AI as a self-hosted API or as iOS and Android SDKs.
"The applications of our technology are nearly endless, and we're thrilled to have Charlie onboard to attract the enterprise talent and subject matter experts who'll really bring our vision to life," said Doug Aley, Chief Revenue Officer of Ever AI. "We expect him to help attract another handful of people by year's end at the pace he is currently working."
Ever AI addresses a range of needs for banking institutions, telcos, hardware firms and government agencies among others. Major use cases include:

Multi-modal biometric authentication, improving cryptographic strength
Face ID and Pay-by-face for quick and seamless customer experiences
Secure building and data access, improving ID management
Face-in-a-Crowd identification for retail and law enforcement scenarios
Photo DB face clustering at scale for telco and law enforcement scenarios
Face-based attribution and attestation, improving marketing confidence
While the private photos and identities of Ever users are never shared with Ever AI customers, partner companies benefit from industry-best accuracy trained on hundreds of millions of global clustered identities. Ever's global footprint has also allowed for the development of highly accurate country-specific and custom supervised models to increase accuracy across ethnicities and ages.
Ever AI's APIs and SDKs offer cost, speed, and security benefits versus public cloud competitors. Enterprise customers can access face detection, identification, verification, and clustering, alongside age, emotion, ethnicity, gender and other facial attributes. Country-specific and custom models are also available. For more information on Ever AI, please visit http://www.ever.ai or email sales(at)ever(dot)ai to set up a walk-through for your organization.
About Ever
Ever is a San Francisco-based software company born out of Atomic. The company has one of the most popular consumer photo storage services globally, storing and automatically organizing over 12 billion photos and videos for tens of millions of users across 95 countries. Ever's facial recognition models, trained on its enormous proprietary tagged data set, are offered to enterprises through Ever AI, a suite of tools and services that bring benchmarked best-in-class facial recognition to global enterprises.