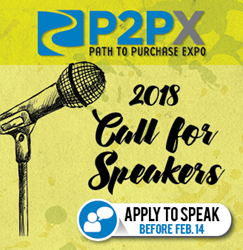 CHICAGO (PRWEB) January 03, 2018
The Path to Purchase Institute has announced call for speakers for its annual conference and trade show, Path to Purchase Expo (P2PX), which will take place in Minneapolis, MN on October 2-4, 2018.
Brand marketers, retailers, agency professionals and solutions providers with expertise driving shopper engagement and influencing purchase decisions should visit path2purchaseexpo.com/call-for-speakers to review the guidelines and submit their presentation proposals. Submissions must be received by February 14, 2018 to be considered.
This three-day conference features an extensive range of educational seminars designed to equip retail industry professionals with the tools needed to execute and manage successful path-to-purchase strategies.
P2PX speaker benefits include:

Complimentary registration to the P2PX.
Industry recognition for yourself and your company or brand.
Extensive publicity courtesy of the Path to Purchase Institute and its various properties.
Excellent networking opportunities to interact with leading brands and retailers.
Topics and themes that appeal to the P2PX audience include:

The Future of Commerce
Artificial Intelligence, Virtual Reality and Machine Learning
Online and Offline Integration
Navigating the Path to Purchase
Shopper Marketing Insights and Best Practices
Innovation and New Technologies Online and On-Self
Retail Activation
Collaboration and Partnerships
OmniChannel Solutions
Leveraging Mobile and Social
Measurement and ROI
Retail, Merchandising and In-Store
Personalization and Data
Hundreds of presentations are submitted during the call for speakers period, so it's not possible to accept all proposals. The conference committee will review each submission and speakers will be notified by April 20, 2018 if their session is selected. Visit speaker guidelines at path2purchaseexpo.com/call-for-speakers or go directly to the submission form at: https://fs6.formsite.com/stagnito/form157/index.html
All questions regarding speaking may be directed to Ronit Lawlor at (773) 992-4415 or RLawlor(at)p2pi(dot)org
About the Path to Purchase Expo
The Path to Purchase Expo is a highly concentrated, solution-driven conference and trade show designed to empower those who execute marketing and sales strategy along the path to purchase. Learn more at path2purchaseexpo.com.
About the Path to Purchase Institute
The Path to Purchase Institute is a global association serving the needs of retailers, brands and the entire ecosystem of solution providers along the path to purchase. It is the most trusted and reliable source for connecting thought leaders and facilitating the sharing of industry initiatives. Learn more at p2pi.org.