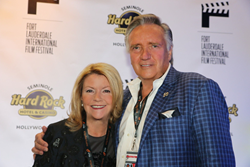 Rob's passing one year ago was a sad day for the family, friends, sharks and the world; he is truly missed. His work continues on in partners such as https://finsattached.org/ [Fins Attached __title__ ], and their unparalleled conservation initiative, the https://finsattached.org/my-sharkwater/ [Sha
COLORADO SPRINGS, Colo. (PRWEB) December 22, 2017
It will be one year since the passing of Rob Stewart and we are honored to announce that Rob's parents, Brian and Sandy Stewart will be with us in Denver at the Saving Our Sea from a Mile High event on January 27, 2018. It is not a time of mourning, but a time of celebration of what Rob meant, and continues to mean, to the shark conservation world.
Co-founders of the Tribute Entertainment Media Group of companies, Brian and Sandy provide content, marketing and advertising to the entertainment and film world. Tribute's online sites include http://www.showtimes.com, http://www.tribute.ca and a network of entertainment websites that feature the latest information on movies, news and trailers.
Their proudest achievements are their two kids; Alexandra, Executive Director of the Weston Brain Institute, a neuroscience research foundation; and Rob, conservationist, biologist, activist for sharks, the oceans, and our planet, and the filmmaker behind Sharkwater, and Revolution.
Rob's passing one year ago was a sad day for the family, friends, sharks and the world; he is truly missed. His work continues on in partners such as Fins Attached, and their unparalleled conservation initiative, the Sharkwater boat.
Rob's follow up film, Sharkwater Extinction will release in 2018, followed by a Sharkwater 3D/VR experience. Watch for updates on all Rob's projects on http://www.sharkwater.com and http://www.therevolutionmovie.com – his work and mission continues!
In addition to Sandy and Brian, Paul Watson will be in attendance at the event. Rob Stewart worked closely with Paul in the filming of the original Sharkwater film. Watson is a marine wildlife conservation and environmental activist from Toronto, Canada. He was one of the founding members and directors of Greenpeace. In 1977, Watson left Greenpeace and founded the Sea Shepherd Conservation Society. He has served as Master and Commander on seven different Sea Shepherd ships since 1978 and continues to lead Sea Shepherd campaigns. Alongside his crew he has starred in seven seasons of Animal Planet's television series Whale Wars.
Tickets to the event are available, Saving Our Seas From A Mile High. Also consider an End-Of-Year tax deductible donation to Fins Attached.
About Fins Attached
Fins Attached conducts research, promotes conservation and provides education for the protection of marine ecosystems. Fins Attached believes in the preservation of our world's precious resources and that through the protection of the ocean's apex predators marine ecosystem balance can be maintained for the benefit of all living things on earth. Fins Attached is a 501(c)(3) non-profit organization. Visit http://www.finsattached.org, or email info(at)finsattached.org.