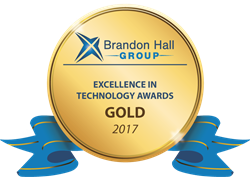 The technology innovators who won Excellence Awards this year were focused on providing users with a better overall experience. That is what our research says employers want, and our award winners are leading the way.
BOSTON (PRWEB) December 21, 2017
New England College of Business (NECB) proudly announced today that Brandon Hall Group recognized the school in its 2017 Excellence in Technology Awards. NECB earned the coveted gold award in "Best Advance in Technology for Testing or Learning Evaluation: Measuring What People Can Do, Not Just What They Know, AI Power Assessments."
NECB earned the 2017 Excellence in Technology Gold Award for its partnership with Authess, a start-up company that focuses on developing authentic assessments, in its Principles of Banking course. NECB's Donna Viens, Dean of Undergraduate Studies, and Paula Bramante, Vice President of the Center for eLearning Excellence, formulated this partnership when looking for a way to address skills such as empathy, resourcefulness, communication and problem identification in the curriculum.
By adding a custom-designed authentic assessment tool, which was procured through the partnership with Authess, Viens was able to incorporate the teaching and measuring of these "soft-skills" in Principles of Banking, now deemed to be of critical importance to employers across all verticals. The use of machine learning and data analytics allowed NECB to cost-effectively document measurable improvement in these higher-order critical thinking and EQ skills among its students. Due to the success of this program, the Academic Affairs department is now considering incorporating this technology in a broader number of courses.
This is the third time that NECB has been honored with an award from Brandon Hall Group in the last four years. Previous awards include the 2016 Bronze Award for "Best Use of Games and Simulations for Learning: Seeing Is Believing – How Gamification Helps HR Students," which recognized the Master of Human Resource Management Program and the 2014 Silver Award for "Best Learning Team: Yes, Virginia, Pigs Can Fly," which recognized the work the school's eLearning team did in building NECB's new degree programs.
Winners of the 2017 awards were selected from hundreds of companies within 25 industry verticals and hailing from 15 countries. A panel of veteran, independent senior industry experts and Brandon Hall Group senior analysts and executives evaluated the entries based upon product, unique differentiators, value proposition and measurable results. As part of the prize, Brandon Hall Group invited NECB to join their annual three-day HCM Excellence Conference in January.
"Human capital management is evolving faster than at any time in its history, and it is powered by innovative technology developed and implemented by organizations big and small," said Rachel Cooke, Chief Operating Officer of Brandon Hall Group and head of the awards program. "The technology innovators who won Excellence Awards this year were focused on providing users with a better overall experience. That is what our research says employers want, and our award winners are leading the way."
To learn more about the Authentic Assessment in NECB's Principles of Banking Course, watch this short video.
About New England College of Business
Founded in 1909, New England College of Business (NECB) is a leading higher education institution offering quality education and online degrees at the undergraduate and graduate levels. Serving students across the United States, NECB is an online college accredited by the New England Association of Schools and Colleges (NEASC) and is licensed by the Massachusetts Department of Higher Education. For information on NECB, visit https://www.necb.edu/, follow NECB on Twitter or connect with the school on Facebook.
About Brandon Hall Group, Inc.
With more than 10,000 clients globally and 25 years of delivering world class research and advisory services, Brandon Hall Group is the most well-known and established research organization in the performance improvement industry. We conduct research that drives performance, and provides strategic insights for executives and practitioners responsible for growth and business results. Brandon Hall Group has an extensive repository of thought leadership, research and expertise in Learning and Development, Talent Management, Leadership Development, Talent Acquisition and Human Resources. At the core of our offerings is a Membership Program that Empowers Excellence Through Content, Collaboration and Community. Our members have access to research that helps them make the right decisions about people, processes, and systems, combined with research-powered advisory services customized to their needs. (http://www.brandonhall.com).