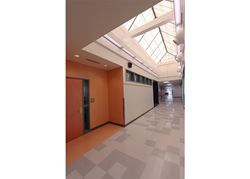 10 for 10
DENVER (PRWEB) December 28, 2017
Adolfson & Peterson Construction (AP) is excited to celebrate with Denver Public Schools and Anderson Mason Dale on the multi‐phase project that revitalized the 1976‐built school, located next to the I‐70 widening project. Using a mentor‐protégé program with Latcon Corp, Accent Electric and NM Industrial, AP exceeded the required 70% MWBE participation goal and attained a combined participation total of 85.05% on Phases I and II.
Phase 2 consisted of replacing classroom flooring and retrofitted light fixtures in current spaces. Exterior windows and doors were replaced to meet NFRC and new ceilings and paint were included throughout. The school received a full mechanical system replacement, including boiler replacement, and roof modifications. Upgraded security systems and electrical gear was also replaced, as well as upgraded panels and distribution. A two (2)‐classroom addition was built on the north end of the building and an administrative addition was built on the east side.
Mayor Michael Hancock spoke at the event as well as Gilberto Munoz, school principle. The event was also attended by the community and CDOT dignitaries. Denver Public Schools has nicknamed the project "10 for 10", as it was built in 10 weeks with 10 million dollars.