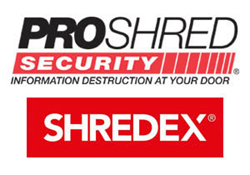 We have always applied strict procedures to protect our customers and it was a natural alliance with SHREDEX® given the shared values; both companies take the security of their clients very seriously
MISSISSAUGA, Ontario (PRWEB) December 29, 2017
Dubai United Arab Emirates: Redishred Capital Corp ("Redishred"), a publicly listed company on the Toronto Stock Exchange has recently transferred its Middle East PROSHRED® License to Shredex Documents Destroying Services LLC ("SHREDEX®").
SHREDEX® has been in the secure document shredding industry in the Middle East since 2010 and has grown rapidly to become a regional leader earning the trust of hundreds of businesses across the region.
Both PROSHRED® and SHREDEX® offer secure, cost efficient and convenient systems that ensure the collection, on-site shredding and eventual recycling of all unwanted paper flow and outdated electronic media in offices and archiving storage thus ensuring their clients abide by local and international information security regulations.
Commenting on the new agreement Mr. Jeffrey Hasham, CEO of PROSHRED® said, "PROSHRED® first entered the Middle East market in 2011, in UAE, Saudi Arabia, Qatar, Oman and Lebanon. What we learned is that there were many Multi-National Corporations that required our services and they did not have many, if any options; there were also numerous Regional and National Corporations that wanted the service to ensure good risk management practice and to have a green solution for their paper and electronics."
He added, "We have always applied strict procedures to protect our customers and it was a natural alliance with SHREDEX® given the shared values; both companies take the security of their clients very seriously. As a consequence, the previous contract held by Averda International FZ-LLC now stands cancelled."
"We have made it our mission to provide the most secure confidential document and electronic media shredding and recycling services to as many businesses as possible in the GCC and MENA region," stated Anis El Solh, Managing Director of SHREDEX®. He added, "today we bring our commitments of security to even higher levels with the exclusive license from PROSHRED® whom, as a worldwide brand, has been a pioneer in the industry for over 30 years serving tens of thousands of customers."
The initial expansion in the Middle East was led by the current SHREDEX® team who were managing PROSHRED® in the region. Mr. Hasham added, "We are thrilled to partner with SHREDEX® who is now our Licensee in the region; their team brings not only a wealth of experience in the market, but also a passion for customer service and a drive for the merits and benefits of secure information destruction using the on-site method. We are confident that the SHREDEX® team will do a tremendous job taking PROSHRED® to the next level in the Middle East market."
About Redishred Capital Corp.
Redishred Capital Corp. is the owner of the PROSHRED® trademarks and intellectual property in the United States and Internationally. PROSHRED® shreds and recycles confidential documents and proprietary materials for thousands of customers in the United States in all industry sectors. PROSHRED® is a pioneer in the mobile document destruction and recycling industry and has both the ISO 9001 and NAID AAA certifications. It is PROSHRED®'s vision to be the 'system of choice' and provide shredding and recycling services on a global basis. PROSHRED® currently services over 30 markets in the United States.
--- --- ---
Note: The TSX Venture Exchange has neither approved nor disapproved of the information contained herein.
This news release contains forward looking statements that reflect the current expectations of management of Redishred and Redishred's future results, performance, achievements, prospects and opportunities. Wherever possible, words such as "may", "will", "estimate", "believe", "expect", "intend" and similar expressions have been used to identify these forward-looking statements. These statements reflect current beliefs and are based on information currently available to management of Redishred. Forward looking statements necessarily involve known and unknown risks and uncertainties. A number of factors, including those discussed in the 2015 management discussion and analysis under "Risk Factors", could cause actual results, performance, achievements, prospects or opportunities to differ materially from the results discussed or implied in the forward-looking statements. These factors should be considered carefully and a reader should not place undue reliance on the forward-looking statements. There can be no assurance that the expectations of management of Redishred will prove to be correct.
In particular, certain statements in this document discuss Redishred's anticipated outlook of future events. These statements include, but are not limited to:
(i) anticipated sales, which may be impacted by industry growth levels, the demand for recycled paper products, changes in local and federal regulations, and the economic situation in the United States.
Readers are cautioned that such forward looking statements are subject to certain risks and uncertainties that could cause actual results to differ materially from these statements. Redishred can give no assurance that actual results will be consistent with these forward-looking statements.