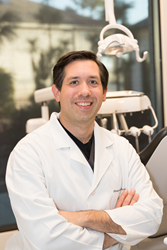 SOUTHERN PINES, N.C. (PRWEB) December 29, 2017
Dr. Steven Van Scoyoc, a board-certified periodontist, recently acquired the X-Guide™ dynamic 3D navigation technology to improve accuracy when placing dental implants in Southern Pines, NC. The software is combined with cone beam CT technology to create a 3D digital guide that is used during dental implant surgery. Dr. Van Scoyoc uses the dual technology to improve accuracy during treatment.
Patients missing one or more teeth often find it difficult to eat and chew effectively, speak clearly, and may be embarrassed to show their smile for the camera or during social situations. Tooth loss can be remedied with dental bridges or dentures, though many patients are dissatisfied with the instability of these options. A more permanent and aesthetic solution to missing teeth is dental implants, which are surgically placed into the jaw bone by a trained periodontist or dentist.
Dental implants are used to restore a single or full arch of missing teeth. When a tooth is lost or extracted, the jaw bone begins to recede and can cause shifting of adjacent teeth or a change in facial appearance. Dental implants work both to restore the appearance of a natural tooth and to help provide healthy stimulation to the jaw bone, halting further resorption. The dental implant's titanium post that is placed into the jaw bone acts much like a natural tooth root, while the dental crown looks and feels like a healthy, natural tooth. When fully restored, dental implants provide patients with a new tooth that is stable, attractive, and long-lasting, with proper care.
Cone beam CT imaging is imaging technology used to capture digital images of a patient's face, mouth, neck, and jaw. The high-quality images provide accurate 3D information concerning the position of teeth, the level of jaw bone volume, and the location of nerves and sinuses. Unlike conventional 2D x-rays, the CBCT allows for 3-dimensional visualization that helps with the diagnosis of oral health concerns and treatment planning, specifically for the placement of dental implants.
X-Guide dynamic 3D navigation is a revolutionary new technology that aids a periodontist or dentist in the placement of dental implants. When combined with CBCT technology, the dual system provides one of the most precise digital guides for dental implant surgery, helping improve the accuracy of position, angle, and depth during placement. X-Guide software also captures a 360-degree view of the patient's mouth in real time, with the ability for the doctor to make live adjustments as surgery progresses to help ensure the most accurate placement of dental implants. Guided implant technology like the X-Guide system help dental professionals provide more consistently accurate and aesthetic treatment outcomes.
Dr. Van Scoyoc is an experienced periodontist who frequently invests in modern dental technology as well as attending numerous continuing education courses to offer the latest techniques at his practice. Patients interested in learning about the benefits of dental implants in Southern Pines, NC, can call Van Scoyoc Periodontics and Implants Center for Oral Health at 910-692-6270 to schedule a new patient appointment.
About the Practice
Van Scoyoc Periodontics and Implants Center for Oral Health offers experienced periodontal treatments to patients in Southern Pines, NC. Dr. Steven Van Scoyoc is a board-certified periodontist, a Diplomate of the American Academy of Periodontology and the only dental specialist with this unique training in Moore County. Dr. Van Scoyoc offers specialized periodontal services including single and full-arch dental implant care, laser gum disease treatment and gum recession solutions. Dr. Van Scoyoc and his team strive to build long-term relationships with each of their patients allowing them to understand their unique needs and goals. To learn more about Dr. Van Scoyoc, his practice or the services he offers, visit http://www.perionc.com or call 910-692-6270 to schedule a custom consultation.