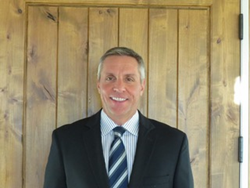 Christopher M. Nook, CEO of Helix, is excited about the recent hire, "Bob is a seasoned professional who'll bring 20 years of experience to our company. Bob has a great respect for our company and its culture – especially our emphasis on our 'customer first' philosophy."
CLEVELAND (PRWEB) January 08, 2018
Helix Linear Technologies, a global leader in lead screw and linear actuator manufacturing, has hired Robert Hawkins to nurture a growing customer list.
Bob has spent over 17 years working with Haydon Kerk – Ametek establishing himself as a successful leader who specializes in product development and sales management in the linear motion industry. Bob says of his decision to join Helix, "I am happy to join Helix Linear Technologies, a company that secured its position as an innovative leader in the linear motion industry, and use my years of success in sales to further cultivate our relationships and bring Helix to the forefront of the linear motion business."
Christopher M. Nook, CEO of Helix, is excited about the recent hire, "Bob is a seasoned professional who'll bring 20 years of experience to our company. Bob has a great respect for our company and its culture – especially our emphasis on our 'customer first' philosophy."
Bob has earned a Bachelor's Degree in Mechanical Engineering from University of Massachusetts – Lowell. He most recently worked as the Western Regional Sales Manager for Haydon Kerk – Ametek in the Denver, Colorado area.
About Helix Linear Technologies
Helix Linear Technologies is a market leader in design, engineering, and manufacturing of precision linear motion and power transmission systems and components. Helix stands by its mission to be an innovative and responsive organization that manufactures linear motion products that meet or exceed their customers' specifications and expectations. More information on the company's extensive product lines, services provided, and industry leading innovation can be found here: helixlinear.com