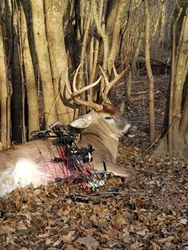 "It also produced three pope and young class bucks in the 2016 hunting season."
Tallulah, LA (PRWEB) July 05, 2017
Bonnette Auctions Louisiana Outdoor Properties announces the upcoming auction of 848.74± acres in Madison Parish. The property includes Class 1 agland and hunting land that will be offered in seven tracts. There are several tracts with highway frontage.
Tract one features mostly irrigated, highly production, cropland with deep well irrigation consisting of mostly commerce silt loam with some shaky clay. It has a high FSA yield history.
Tract two features irrigated, highly productive, cropland with a bayou and two deep wells for irrigation. It is 98% commerce silt loam. Tract three features a portion of "Sip" lake that produces an abundance of ducks. It also produced three pope and young class bucks in the 2016 hunting season.
The auction will be held offsite Saturday, July 29th at 10:00 AM CDT. Buyers do not have to be present at the auction as this unique auction experience allows customers the option of bidding live or online. For more information regarding the property and the terms of the sale, visit http://www.bonnetteauctions.com/auction/317180/prime-farmland-hunting-land-auction-tallulah-la/.
About Bonnette Auctions Louisiana Outdoor Properties
Bonnette Auctions Louisiana Outdoor Properties offers a wide array of sales services to meet our clients' needs. We maximize our seller's returns by using proven cost effective methods to create heightened awareness and competition for their assets. Our mission is to be the nation's first choice asset sales and services group by innovatively developing supply and demand for our services. With rapid growth of the auction industry, we have developed into a leading auction sales group, servicing the general public, corporate institutions, governments and all sectors of the business community. Our satisfied clients are the result of our commitment to excellence. For more information on Bonnette Auctions Louisiana Outdoor Properties, visit http://www.BonnetteAuctions.com. The auction team can be contacted directly at (318) 443-6614.
Contact
Barbara Bonnette, CAI, AARE, GPPA
Bonnette Auctions Louisiana Outdoor Properties
Auction & Real Estate Group
(318) 443-6614
barbara(at)bonnetteauctions.com
Chris Lemoine, CAI
Bonnette Auctions Louisiana Outdoor Properties
Auction & Real Estate Group
318-359-2394