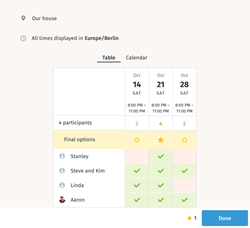 Doodle has taken the pain out of scheduling for millions of people over the past ten years, and this massive redesign makes scheduling with Doodle even easier and more enjoyable
Zurich, Switzerland (PRWEB) October 19, 2017
Doodle, the worldwide leader in scheduling, today announced the completion of a major redesign of their online scheduling service. The redesign is more attractive and easier to use, plus it features less steps, a decluttered calendar view, and other optimizations that speed up the scheduling process for the more than 26 million people who use Doodle each month worldwide.
The redesign improves on the original formula for Doodle's success. To schedule an event, you just choose some possible dates and times and let the participants select what works best for them. With a quick look, you'll see everyone's availability and be able to schedule a time that works for the entire group.
Doodle's users have been a part of the redesign process since day one, and the beta version progressively rolled out during the course of this year.
The redesign is a significant product milestone for Doodle's progress over the past ten years. In addition to the free online group scheduling service that can connect to your calendar, Doodle also offers mobile apps for iOS and Android and an ad-free professional product called Premium Doodle that provides more features and customization possibilities. Last year, Doodle also acquired Meekan, an AI chatbot scheduling assistant.
The following statistics reveal some details about how Doodle is used:

A large majority of people are using Doodle on computers instead of mobile devices
The most common number of meeting time options in a Doodle poll is five
Monday is the busiest day for scheduling on Doodle
The United States is the most active country on Doodle
"Doodle has taken the pain out of scheduling for millions of people over the past ten years, and this massive redesign makes scheduling with Doodle even easier and more enjoyable," said Gabriele Ottino, CEO of Doodle. "Our goal for the next ten years is to put Doodle in all of your communication channels and connected devices so scheduling can be seamless and always integrated in your life."
Links

About Doodle
Simplified fast scheduling: With Doodle.com, the leading online scheduling tool, Zurich-based Doodle AG provides enormous time savings around the world. The free basic service is used by over 26 million monthly users to schedule board or team meetings, dinners with friends, weekend trips, and much more. Premium subscriptions with additional features are also offered. Doodle is part of the Swiss media group Tamedia. Learn more at http://doodle.com