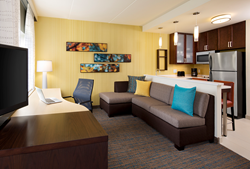 We are pleased with the continued growth of Residence Inn hotels in the Plano area.
Plano, TX (PRWEB) January 10, 2017
The 129-suite Residence Inn by Marriott in Plano, Texas is scheduled to open this Wednesday, January 11, 2017. Located at 1705 East President George Bush Highway, the all-suite Residence Inn Dallas Plano/Richardson will operate as a Marriott franchise, owned and managed by Western International of Dallas, Texas. Western International also opened a Courtyard property next door in October.
Located near downtown Plano and 30 miles from Dallas/Fort Worth International Airport, the Residence Inn Dallas Plano/Richardson offers its guests convenient access to the State Farm Campus, the new CityLine Development and The Shops at Legacy. Rates vary depending on length of stay.
"We are pleased with the continued growth of Residence Inn hotels in the Plano area," said Diane Mayer, vice president and global brand manager, Residence Inn. "When on the road for an extended period, our guests need space to spread out, maintain their life's pace and restore their energy to help them maintain a healthy balance and routine while traveling. This new hotel offers them a seamless blend of modern style and functionality that allows them to settle in and thrive."
The Residence Inn Dallas Plano/Richardson is an all-suite hotel that offers studio and one-bedroom suites. Guests looking for a revitalizing sleep experience will enjoy the hotel's plush mattresses and crisp linens, while guests focused on being productive will value their suite's large, well-lit work desk, ergonomic chair and complimentary high-speed Internet access. Designed for stays of five nights or more, each suite also has a fully-equipped kitchen with a coffeemaker, microwave oven and residential-sized appliances.
The Residence Inn Dallas Plano/Richardson rotates a wide selection of healthy choices at our free hot breakfast every day. Start with favorites like bacon and eggs, Greek yogurt, cut fruit or waffles and make it yours with our extensive toppings, ranging from fresh spinach and cheese to sliced almonds and strawberries. Enjoy all the options you need to start your morning with endless possibilities.
Extending the feeling of comfortable living on the road, the Residence Inn Dallas Plano/Richardson offers guests inviting and functional public spaces to relax or collaborate. Road warriors and families alike enjoy the hotel's grocery delivery service, complimentary Wi-Fi, 24-hour onsite food and beverage market, dry cleaning services, and onsite guest laundry room. The hotel's weeknight evening gatherings - the MIX offer a casual, relaxing environment where guests can be as social as they want, while enjoying premium beers and connection to local flavors. The hotel also maintains a business library where guests can fax, copy and print materials, and provides guests with a parking garage, an outdoor swimming pool and fitness center exercise room.
Residence Inn by Marriott
Residence Inn by Marriott is the global leader in the extended-stay lodging segment, with more than 700 properties located in the United States; Canada; Europe; the Middle East and Central America. Designed for long stays, the brand offers spacious suites with separate living, working, and sleeping zones. Fully functional kitchens; grocery delivery service; 24-hour markets and complimentary breakfasts help guests maximize their time and thrive while they travel. The RI Mix evening events afford guests the opportunity to socialize and connect with the local community. Each Residence Inn offers free Wi-Fi in both public and guests spaces to ensure continuous connectivity while on the road.
As a member of the Marriott International portfolio, Residence Inn participates in the award-winning Marriott Rewards® frequent guest program. Members earn their choice of points toward free vacations or frequent flyer mileage for dollars spent at any of the more than 4,000 Marriott hotels worldwide.
For more information or reservations, call the Residence Inn number at +1 (972) 424.9101 or visit marriott.com/DALPR. For travel tips, the latest on the brand or to connect with other travelers, "like" Residence Inn on Facebook: http://www.facebook.com/RIDallasPlanoRichardson and follow Residence Inn on Twitter: http://www.twitter.com/residenceinn.