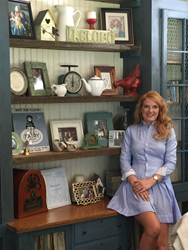 Ally's transformation of hidden-potential properties into truly amazing homes will be exciting to watch on "Vintage Rehab." We're so proud she is a member of our Northwood family.
(PRWEB) September 01, 2017
Ally Mahon, a native Pittsburgher and real estate agent from Northwood Realty Services' Hampton office, will share her love of refurbishing Pittsburgh area historical homes on Vintage Rehab, a new television show that premieres Wednesday, Sept. 6, at 9 p.m. ET/PT on the DIY Network. The eight-episode show will chronicle Ally's home renovations across Pittsburgh neighborhoods, starting with a 1920s Craftsman-style bungalow in Squirrel Hill.
"We are thrilled for Ally and the launch of her new show," said Tom Hosack, president and CEO of Northwood Realty. "At Northwood, we've always seen the dedication, professionalism and enthusiasm she brings to her work. Her transformation of hidden-potential properties into truly amazing homes will be exciting to watch on Vintage Rehab. We're so proud she is a member of our Northwood family."
Ally currently resides in the North Hills of Pittsburgh, where she also grew up. As a mother of three, she began her real estate career almost a decade ago with the goal of one day flipping homes. She started with properties in Lawrenceville. To date she has been involved with flipping more than 40 houses in and around the city, and she continues to find opportunities with her business partner Mauricio. Ally, with her husband Buddy who is a plumber, and a few contractors complete most of the renovation work themselves.
One of Ally's favorite restoration stories is about the 1890s farmhouse where she and her family currently live. The home had missing plaster, leaky roofs, squirrels in the bedroom and 25 of the 44 windows were broken. When her mother-in-law first toured the house, she cried and called it a disaster. But according to Ally, all she saw were the home's high ceilings, huge rooms, built-ins, beautiful woodwork, and fireplaces in almost every room.
"Pittsburgh is my home town and reviving these properties is my passion," said Ally. "My job is to add value and comfort without taking away that vintage charm."
For more vintage projects and behind-the-scenes footage, viewers can visit the Vintage Rehab show page at http://www.diynetwork.com and can interact via social media using #VintageRehabDIY.
About Northwood Realty Services
Founded in 1956, and celebrating 60 years of service, Northwood Realty Services is one the region's largest real estate services providers, serving customers across 30 counties from 39 offices in Western Pennsylvania and Eastern Ohio. Northwood and its affiliates provide clients with full-service real estate solutions that cover every step of the home buying and selling process. Northwood consistently leads the industry by employing new technologies, best-in-class training and experienced leadership to ensure that its agents are positioned to assist buyers and sellers with unparalleled customer service. Northwood has earned a reputation for integrity, accountability and hard work. Guided by these principles and a desire to serve others, Northwood agents are changing the face of real estate.
For more information about Northwood Realty Services visit: http://www.northwood.com/
# # #