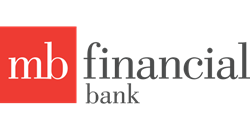 "One of the best ways we can demonstrate our commitment to the communities that have given us so much, is volunteering our time at the nonprofits that directly serve our Chicagoland communities every day."
Chicago, IL (PRWEB) September 12, 2017
Today, MB Financial announces its seventh annual company Volunteer Day dubbed "MB on the Block" on Wednesday, Sept. 13. Over 550 MB employees will deploy to 30+ community organizations throughout the Chicagoland area. Through service projects, MB employees will donate more than 2,000 hours of service in a single day. "MB on the Block" Volunteer Day is one of its core initiatives aimed at helping to build strong and vibrant communities. MB Financial strives to serve as a community partner, focused on the well-being and prosperity of the neighborhoods it serves.
"'MB on the Block" has become a source of pride for our employees who are driven to make positive contributions in the areas they live and work, it's an important part of MB's culture," said Vicky Arroyo, President of the MB Financial Community Development Corporation. "One of the best ways we can demonstrate our commitment to the communities that have given us so much, is volunteering our time at the nonprofits that directly serve our Chicagoland communities every day."
The 2017 "MB on the Block" Volunteer Day will support 45 service projects for the following nonprofits:
Anixter Center
Aspire
Back 2 School Illinois
Bethesda Home and Retirement Center
Carole Robertson Center for Learning
Casa Central
Catalyst Schools
Center on Halsted
Feed My Starving Children
Franciscan Outreach
Gads Hill Center
Greater Hammond Food Bank
Habitat for Humanity (Chicago and Will County)
Helping Hand Center
Irving Park Community Food Pantry
Junior Achievement
Lakeview Food Pantry
Lincoln Square Friendship Center
National MS Society
Neighborhood Boys and Girls Club
Northern Illinois Food Bank
Oak Park River Forest Children's Clinic
Oak Park River Forest Food Pantry
SKYart (South Chicago Art Center)
The Boulevard (Interfaith House)
The Cara Program
Tutoring Chicago
Under the Rainbow
Wells Community Academy High School
WINGS program
For more information about MB Financial community partnerships, please visit http://www.mbfinancial.com
About MB Financial
MB Financial Bank N.A. is a Chicago-based commercial bank with approximately $20 billion in assets and a more than one-hundred-year history of building deep and lasting relationships with middle-market companies and individuals. MB Financial Bank offers a full range of powerful financial solutions and the expertise and experience of bankers who are focused on their clients' success. MB Financial Bank is a wholly owned subsidiary of MB Financial, Inc. (NASDAQ: MBFI).