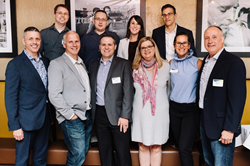 "We have always felt it was incredibly important to have a dynamic blogging platform—to produce and share a steady stream of content on the topics core to our audience." - Carrie Majewski, Principal, Marketing
WARWICK, R.I. (PRWEB) January 09, 2018
Since its inception, Trilix has been committed to helping organizations reach a heightened level of workplace excellence—wherein operations and culture are intentionally fused together to achieve organizational goals. Through its client relationships, community partnerships, company events and a robust blogging platform, Trilix has been keeping this conversation front and center in business circles.
Two of its leaders—Randy Jackvony, Principal of Technology and Client Services, and Dana McInnis, Principal of Business Solutions—are now regular, featured bloggers for two leading industry publications: BTOES Insights and Business2Community.
BTOES Insights is an online content platform for OpEx professionals, producing content specifically targeted at discussing the most pressing issues regarding business transformation and operational excellence. Business2Community is one of the most popular business blogs on the web, according to Technorati and Alexa.com, comprised of more than 10,000 expert contributors. Tim Hebert, Trilix's CEO and Founder, has also been a blogger for BTOES Insights since 2016.
"We have always felt it was incredibly important to have a dynamic blogging platform—to produce and share a steady stream of content on the topics that are critical to our audience, like process improvement, technology innovation, business transformation and workplace excellence," said Carrie Majewski, Trilix's Principal of Marketing. "We are honored that BTOES Insights and Business2Community, two separate publications, have selected Randy and Dana as featured bloggers. We look forward to sharing their work with an even larger audience."
As Trilix's technical leader, Jackvony routinely covers topics centered on technology implementation, systems integration, and user adoption and software development, among other topics.
McInnis, who oversees Trilix's Business Analysis and Quality Assurance practices, commonly explores how a business analyst can transform your business, how manual processes and broken workflows can contribute to a negative corporate culture, the danger of perpetuating those manual processes, and how to ensure users embrace new technology.
To view Jackvony's work, check out the following:

To view McInnis' work, check out the following:

About Trilix
Trilix, a New England-based company, empowers clients to create positive change. Trilix offers differentiated services in process and workflow analysis, application development, systems integration, and user adoption. Made up of a team of senior-level developers, innovators and trailblazers, Trilix helps clients realize their full operational potential. From SMBs to Fortune 500 companies, Trilix has helped businesses across numerous verticals build the bridge to their desired future state. To learn more, please visit http://www.trilixtech.com. Find Trilix on our Blog, Facebook, LinkedIn and Twitter.