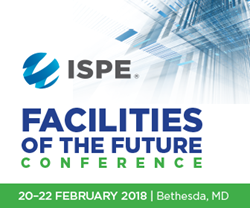 Bethesda, Maryland (PRWEB) January 04, 2018
The International Society for Pharmaceutical Engineering (ISPE) announced its keynote speakers and full technical program for their 2018 Facilities of the Future Conference, taking place 20–22 February in Bethesda, Maryland USA. Returning for the first time since the launch event in 2016, this event will explore the changing landscape of pharmaceutical manufacturing to offer solutions and strategies for facilities to be competitive and cost-effective.
Keynote Speakers:

Antonio (Tony) R. Moreira, PhD, is Vice Provost for Academic Affairs at the University of Maryland, Baltimore County (UMBC). His session will focus on the Workforce of the Future and an FDA presentation on Accelerated Approvals and Programs to Support Them. Dr. Moreira has over 30 years' experience in the biopharma sector and spent nearly 10 years in management positions in the private sector with International Flavors and Fragrances and with Schering-Plough Corp. (now Merck).
Eric Schaeffer is the Senior Managing Director at Accenture. He is the author of Industry X.0 which explores the business impact of the Industrial Internet of Things movement on the industrial sphere. His session will focus on emerging technologies. Immediately following his presentation, Eric will join a panel discussion with other futurist thought leaders from the FDA, GE Digital, Pfizer, and the University of Maryland, Baltimore County.
Conference Highlights:

A round of rapid fire discussions from start-up companies on lessons learned, innovation, disruptive technologies, as well as planning for and managing change
A fireside chat with Dr. Robert Blouin, Executive Vice Chancellor and Provost, University of North Carolina-Chapel Hill, on - Building a Culture of Collaboration and Innovation at the University of North Carolina at Chapel Hill's School of Pharmacy
An exhibit hall featuring integrative technologies and solutions practiced in new and existing facilities
To learn more about this ISPE event and to register, http://www.ISPE.org/Conferences/2018-Facilities-Future.
About ISPE
The International Society for Pharmaceutical Engineering (ISPE) is the world's largest not-for-profit association serving its members through leading scientific, technical, and regulatory advancement across the entire pharmaceutical life cycle. The more than 18,000 members of ISPE are building solutions in the development and manufacture of safe, effective pharmaceutical and biologic medicines, and medical delivery devices in more than 90 countries around the world. Founded in 1980, ISPE has its worldwide headquarters in Bethesda, Maryland USA, and an operations and training center in Tampa, Florida USA. Visit http://www.ISPE.org for more information.
For more information, contact:
Maria Robertson
Senior Director, Marketing Communications
International Society for Pharmaceutical Engineering (ISPE)
Tel: +1-301-364-9207
Email: mrobertson(at)ispe(dot)org
http://www.ISPE.org