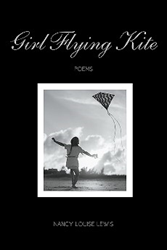 "Ms. Lewis has a clear and cogent vision that she manages to articulate through ghostly colors and raw particularities in an enviable collage of a life both troubled and brilliant." M. Dixon
(PRWEB) January 10, 2018
"Author Nancy Louise Lewis delivers a cutting-edge confessional, a meditation on land and personhood, genealogy and memory, that vibrates with longing and overcoming through tight form and haunting evocation. The poems in Girl Flying Kite range from idiomatic, cultural expressions (to rival Penn Warren and Frank Stanford) to quiet, breath-like paeans and dirges for the intimacies of childhood. Ms. Lewis has a clear and cogent vision that she manages to articulate through ghostly colors and raw particularities in an enviable collage of a life both troubled and brilliant— a paramount expression of the poet's soul: and the soul of all who have survived the mysteries, dichotomies, and beauty of this world. 'Girl Flying Kite' is a must read for all enthusiasts of contemporary poetry," states PBK Reviewer M. Dixon.
The first poem in the collection – and the title of her book "Girl Flying Kite" – describes the moment a nuclear bomb exploded over Nagasaki, Japan, during World War II. It begins:
We have to imagine
she had flaws, the girl
whose shade is blasted forever
into Nagasaki stone. She was doubtless
less beautiful than the outline
suggests.
This vivid assortment features works originating from the author's childhood spent in Appalachia as well as other life experiences. She questions pre-conceived ideas about the world as she experiments with language. "Many of the poems have won awards, and I wanted to collect the best of my work into one volume. More to come."
About the Author: Now retired, award-winning newspaper journalist and college professor Nancy Louise Lewis was born near Appalachia and now resides in Connecticut. She is CEO of her nonprofit, Legalities, Inc., which helps deserving litigants afford an attorney to access the court system. This is her second book. Her first was her memoir "Daisies Don't Lie: Misadventures in Journalism: The Making of a Feminist."
"This unique poetry by Nancy Louise Lewis offers a kaleidoscope of powerful themes that will capture the imagination. Strategic is thrilled to announce its release," said Robert Fletcher, CEO of Strategic Book Publishing and Rights Agency.
GIRL FLYING KITE: POEMS (ISBN: 978-1-94653-963-2) is now available for $10.95 and can be ordered through the publisher's website:
http://sbprabooks.com/NancyLouiseLewis or at Amazon.com or Barnesandnoble.com.
WHOLESALERS: This book is distributed by Ingram Books and other wholesale distributors. Contact your representative with the ISBN for purchase. Wholesale purchase for retailers, universities, libraries, and other organizations is also available through the publisher; please email bookorder(at)sbpra.net.