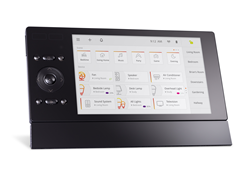 We very much relate to SafeTrek's mission to protect and comfort people so they can live freely, and while Oomi today provides our customers a simple way to secure and monitor their home, this partnership will take personal safety and home security to the next level
CHICAGO (PRWEB) January 05, 2018
Fantem, the developers of the award-winning smart home solution Oomi, and SafeTrek, a leading personal safety focused technology company, today announce a collaboration to develop a suite of innovative solutions to enhance the security of their customers' property and their personal safety in addition to the well-being of their loved ones. The solutions will leverage the emergency response platform created by SafeTrek and the home security and monitoring features of the Oomi system.
Oomi provides superior control and monitoring through Oomi Touch, the dedicated touchscreen in-home control panel, as well as the Oomi App for iOS and Android devices. The solutions being developed with SafeTrek will enable users to receive alerts and respond to potential threats without needing to switch applications.
SafeTrek has been heralded for their simple but effective approach to personal safety which has resulted in over 40,000 emergencies handled to date. The inclusion into the Oomi smart home platform will further their objective to grow beyond their flagship mobile application.
Oomi's home security and monitoring suite of products are set apart from other systems by their effortless setup and configuration. With just a tap, Oomi devices are instantly recognized and included into the home automation system without the need for any complex steps or programming. This simplicity ensures that even consumers with limited technical savvy can enjoy a connected home.
"Oomi was conceived with the focus of both simplifying and improving the way people live", said Colin Marshall, President at Fantem. "We very much relate to SafeTrek's mission to protect and comfort people so they can live freely, and while Oomi today provides our customers a simple way to secure and monitor their home, this partnership will take personal safety and home security to the next level."
In addition to security and monitoring, Oomi provides products that allow for wireless control and automation of home lighting, appliances, and entertainment using both proprietary applications as well as popular mobile and voice applications. Consumers can also integrate other leading smart technologies to their system including Philips Hue lights and Nest thermostats as well as hundreds of Z-Wave enabled devices.
The initial phase of this collaborative effort will be on display in the Oomi booth 40747 in the Sands Smart Home Exposition at the Consumer Electronics Show in Las Vegas, Nevada, January 9-12.
About Fantem
Fantem is focused on enhancing people's lives through the development of innovative lifestyle products and solutions. In 2014, Fantem began a mission to remove the complexity and frustration associated with smart home systems and technologies. Through thoughtful consideration of consumer goals, Fantem re-imagined the experience from the ground up to. The result is Oomi, a first of kind smart home solution that offers unparalleled simplicity and ease of use - "a system designed for the rest of us!" Now anyone can have a smart home, regardless of their comfort level with technology. Fantem has offices in Chicago and Shenzhen and strategic partners in four continents.
About SafeTrek
SafeTrek uses advanced technology to keep people safe. The company focuses on building personal safety solutions for the modern world. Launched four years ago as a mobile application, SafeTrek has since expanded beyond a consumer application— partnering with products and services to enable automated emergency response for their users via a proprietary API and platform that was originally developed to support the use of their mobile application. SafeTrek is the only company of its kind with technology that works everywhere in the United States, allowing users to get real-life help in the event of threats or emergencies, without requiring a 911 call or the ability to talk or text.