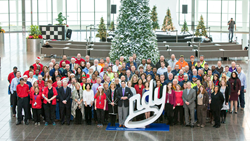 INDIANAPOLIS (PRWEB) January 08, 2018
OurHealth, Indiana's leading provider of employer-sponsored primary care clinics, today announces a new partnership with the Indianapolis Airport Authority (IAA), which owns and operates Indiana's largest airport system in the metropolitan area, including the award-winning Indianapolis International Airport.
The partnership grants IAA employees and their dependents convenient access to six primary care clinics in Indianapolis and a host of wellness programs free of charge. Clinic sites throughout the metro area include downtown Indianapolis, Greenwood, and Plainfield, as well as locations near 96th Street & Keystone Avenue, 86th Street & Zionsville Road, and Washington Square.
The addition of IAA further establishes OurHealth's stronghold in the Indianapolis employer market. The nine-year-old healthcare player has traditionally focused on the professional services, municipal and education sectors and continues to bring on new employers every month.
"This decision was all about our employees," said Mario Rodriguez, the IAA's Executive Director. "The Indianapolis International Airport is consistently ranked as the best airport in North America, and that's due to the dedication and passion our employees have for serving our customers. Our employees and their families deserve the best, and OurHealth is the best clinic solution on the market."
"The team at IAA has a high bar for excellence, and we're grateful for their vote of confidence on the quality of our MyClinic solution," said Ben Evans, CEO and co-founder of OurHealth.
OurHealth is committed to working with its partners to enhance employee well-being and reduce long-term healthcare costs for employers. OurHealth customers see an average savings of 20 percent on healthcare costs, mostly in the form of reduced emergency room visits, savings on specialty referrals and reduced drug costs. Its growing roster of clients includes OneAmerica, Genesys (formerly Interactive Intelligence), Ice Miller LLP, the City of Indianapolis and the City of Charlotte.
OurHealth was founded in 2009 to solve three problems in the healthcare system: lack of access, poor outcomes and unaffordable cost escalation for employees and employers. In June 2017, the company announced a $37 million fundraising round lead by White Oak, which will be used to invest in marketing, sales and technology. Headquartered in Indianapolis, OurHealth recently expanded into North Carolina. Further market expansion is planned for 2018.
About Indianapolis Airport Authority
The Indianapolis Airport Authority owns and operates Indiana's largest airport system in the Indianapolis metropolitan area. In addition to the Indianapolis International Airport (IND), its facilities include the Downtown Heliport, Eagle Creek Airpark, Hendricks County Airport-Gordon Graham Field, Indianapolis Regional Airport and Metropolitan Airport. IND serves more than 8.5 million business and leisure travelers each year, averaging 143 daily flights – seasonally and year-round – to 49 nonstop destinations. IND is consistently ranked, year after year, as the best airport in North America and the nation, based on ease of use, passenger amenities, customer service, local retail offerings and public art. The airport is home of the world's second largest FedEx operation and the nation's eighth-largest cargo facility. IND is committed to becoming the airport system of choice for both passenger and cargo service. For more information, visit http://www.IND.com.
About OurHealth
OurHealth is a provider of onsite and near-site primary care clinics and wellness programming focused on enhancing the patient experience and lowering healthcare costs for businesses of all sizes. Its MyClinic network, an industry first, significantly lowers the barrier to entry by allowing employers of all sizes to gain immediate access to a network of primary care clinics around the city. OurHealth offers a comprehensive healthcare approach to its clients and their employees, which includes primary care services, wellness services, onsite laboratory and medication dispensing services and referral guidance. OurHealth has clinics in Indiana, Illinois, North Carolina, Pennsylvania and Tennessee. To learn more about OurHealth, visit http://www.ourhealth.org.