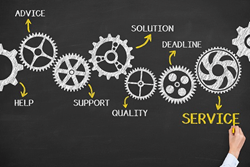 To deliver great service, you must first have a great service delivery model.
TORONTO (PRWEB) January 16, 2018
The Taylor Reach Group, Inc. a globally recognized CX and Contact Center consulting firm, announced today that they are working with a major North American retailer to redesign their Contact Center operating model.
Taylor Reach will assist the retailer in analyzing operation models and the costs and benefits of each model. With a model selected, Taylor Reach will then focus on populating the data into the model to provide an accurate Total Cost of Ownership (TCO). The revised Contact Center model will allow the retailer to implement the new model with the costs to the organization to be known and recognized.
"To deliver great service, you must first have a great service delivery model. We have a thorough comprehension and understanding in the Contact Center arena, backed by decades of experience establishing, operating and developing cost-effective Contact Center model strategies - whether it be inbound, outbound, outsourcing, offshoring, nearshoring home sourcing or a combination of these option," said CEO and Chief Chaos Officer of Taylor Reach Group, Colin Taylor. He expanded, "We're looking forward to working with our client to establish the most cost-effective means of operation for their Contact Center, while still placing an importance on our client's organizational goals, objectives and of course, the Customer Experience delivered through their Contact Center operations."
About Taylor Reach Group
Established in 2003, Taylor Reach Group is an internationally acknowledged and leading CX and Contact Center consulting firm. Having assisted hundreds of organizations, of all sizes, across all verticals, TRG ensures their clients' Contact Center(s) achieve their Contact Center, Customer Experience, and operational objectives. The firm specializes in sourcing strategies, customer experience, customer service/support, and Contact Center Assessments. For more information, visit http://www.thetaylorreachgroup.com
Media Contact: For more information contact Sarah Hill – Stapley at 1-866-334-3730 ext. 112 or email at shillstapley(at)thetaylorreachgroup(dot)com