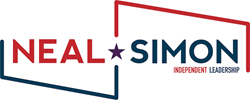 POTOMAC, Md. (PRWEB) January 08, 2018
A new Gallup survey finds that the number of Americans who identify as independent surged to a near record level and far surpasses the number of people who say they identify as either Democrat or Republican.
Gallup surveyed more than 13,000 adults of voting age and found that in 2017, 42 percent of Americans identified themselves as independent, up from 39 percent in 2016. Just 29 percent of Americans said they identify as Democrats and 27 percent as Republicans. Gallup researchers said that two key reasons for why more people are identifying politically as independent are Americans' frustrations with the way the government is working and the generally low favorable ratings of the two major parties.
"This is exactly what I've been hearing from people in Maryland, that extreme partisanship and party loyalty have failed to produce results that the people of Maryland and America deserve," said Neal Simon, who recently formed an exploratory committee for a potential independent campaign for the U.S. Senate. "Americans want a government that responds to their concerns and representatives who work together to solve critical problems like high health care costs, and our faltering education system and failing infrastructure."
"Instead, the two parties seem locked in combat to see who can score the most and easiest political points and win the news cycle. They're fighting with each other when they need to be getting things done for the American people," said Simon.
The three-point increase in the proportion of independents in 2017 is larger than what Gallup typically sees in the year after a presidential election. The average over the past eight presidential elections has been a one-point increase. Gallup researchers noted that this greater self-identification of political independence in 2017 could mean voters are more likely to act as free agents when casting ballots in the 2018 midterm federal elections.
"People are tired of the partisan politics and political backbiting they've seen in Congress over the past several years," said Simon. "Our two-party system is broken. The 'win at all cost' mentality that permeates Washington has driven the two parties into their extreme corners, making it impossible for our political representatives and leaders to find a middle ground and work together on real solutions. There has to be a better way."
For more information, visit http://www.nealsimon.com and follow on Twitter @nealjsimon.
Paid for by the Neal Simon Exploratory Committee.