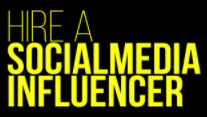 Why would a company ever sign on for a 12-month subscription when they need 2 influencers? Also, are you going to trust a company's algorithm to set the influencer's fee vs. someone who has negotiated millions of dollars of influencer deals like myself? I don't think so! - Evan Morgenstein
Raleigh, NC (PRWEB) January 09, 2018
CelebExperts President and CEO Evan Morgenstein has launched a new division of his celebrity marketing agency that will consult businesses who want to hire social media influencers but are tired of the one-dimensional approach through massive databanks. The new division, with website http://www.hiresocialmediainfluencers.com, is a result of the explosive opportunity in the current market given the liquidity for many companies and the emerging need to continue to grow brands by increasing direct to consumer profits.
Fortune Magazine expects the amount of brand investment in influencers to explode in the near future, citing a study by mediakix that found, "the influencer marketing trend seems to be here to stay and is expected to become a $5 to $10 billion market within the next five years." Companies will need the ability to quickly and easily hire social media influencers who can move the needle across different categories and consumers.
"This new division will operate as a best in category boutique agency working on a one-on-one basis with our clients. It is the 'wild west' out there and I'm staking my company's claim," said Morgenstein.
The CelebExperts CEO went on to say, "Everyone has their own preference. I have a lot of respect for the massive companies that have aggregated millions of influencers in their database. But that isn't what my client wants, or they want me to take the names they've generated from these databases and validate and negotiate deals on their behalf. My clients want the ability for their agencies or internal staff to be able to convey a need and have us do the work. That's what we do, help the client hire the best social media influencers for your project, budget and objective."
This new division of CelebExperts will spearhead the influencer search process, negotiate agreements, assist in the activation of social media influencer programs, brand collaborations, and build programs at community based influence events such as Coachella or SXSW and others. The division will work in two unique ways, either via retainer on a monthly basis for clients who are buying a lot of talent, or for small and one-off buys, the company will commission the gross amount paid to the talent.
Morgenstein sees this type of flexibility very much in line with the marketplace, "Things are changing so rapidly, why would a company ever sign on for a 12-month subscription deal when they might only need 1 or 2 influencers? Also, are you going to trust a company's algorithm to set the influencer's fee vs. someone who has negotiated millions of dollars of influencer deals like myself and my staff? I don't think so!"
For more info regarding hiring social media influencers for an upcoming campaign, contact Evan Morgenstein at evan(at)celebexperts(dot)com or call (919) 332-0584.