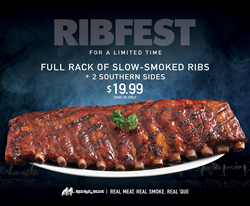 WINSTON-SALEM, N.C. (PRWEB) January 09, 2018
Red Hot & Blue Restaurants across the country have been ringing in the New Year with "Ribfest". Red Hot & Blue's Ribfest celebration has become an annual event – for the month of January each year, a special limited time menu offering featuring Red Hot & Blue's signature, award-winning, hickory-smoked ribs has become a fan favorite. This year's Ribfest celebration includes an offering of a full rack of fall-off-the-bone-tender, St Louis-Style Slab of Hickory-Smoked Ribs with two Southern Side Items for only $19.99. The special-priced Rib Meal is good through February 4, 2018.
Red Hot & Blue specializes in slow, hickory-smoked meats: Ribs; Pulled Pork; Chicken and Beef Brisket. Only the finest cuts of USDA meats are hand-selected to be smoked fresh daily, on-site using hickory logs, low temperatures and long cooking times at each Red Hot & Blue restaurant.
The Red Hot & Blue Ribfest celebration is going on now through February 4, 2018 at the following locations:

###
About Red Hot & Blue Barbecue Restaurants, Incorporated:
Red Hot and Blue Restaurants, Inc. has been named year-after-year in the top "Best Barbecue Chains in America" according to The Daily Meal. The Daily meal editors sifted through regional preferences to funnel the most popular chains in his list of 10 Best Barbecue chains in America. Criteria for selection was based on: local renown, consistency of food across all the locations, adherence to traditional barbecue techniques like "low and slow" on-premise smoking, atmosphere and most importantly, if the food tastes good. The 2017 article may found online at:
http:// http://www.thedailymeal.com/eat/america-s-top-25-barbecue-chains-2017
Red Hot & Blue first opened in the Washington D.C. area over 30 years ago. The authentic, slow-smoked Barbecue chain's mission is to "serve only the best quality barbeque in a fun, casual atmosphere surrounded by legendary and classic blues, R&B and rock and roll music and memorabilia." Red Hot & Blue has 16 locations in 6 states: Maryland, Missouri, New Jersey, North Carolina, Texas, and Virginia. Red Hot & Blue is your headquarters for "REAL MEAT. REAL SMOKE. REAL 'QUE."
Red Hot & Blue's premier catering teams have been serving up Southern Hospitality and Barbecue with all the fixins for over 30 years at events from birthday, anniversary, baby showers or graduation gatherings, corporate meetings and presentations, retirement parties and family reunions to casual or formal weddings and large banquets. They can accommodate any type occasion from 20 to 10,000 attendees. The experienced Red Hot & Blue Catering Team will customize the menu to fit your party or event plans and budget. For more information, visit http://www.redhotandblue.com
For additional information or franchise opportunities, contact: Randy McCann, President, Red Hot & Blue Restaurants, Inc., 154 Charlois Boulevard, Winston-Salem, North Carolina, 27103. Phone: 336-714-1515; E-mail