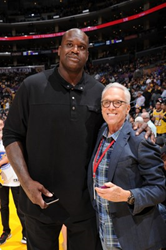 "This will provide AP and PodcastOne subscribers with real-time, daily news reports, commentary and original content."
LOS ANGELES, CA (PRWEB) January 10, 2018
PodcastOne SportsNet content teams with AP's worldwide sports coverage to provide instantaneous reports from national and international sporting events, beginning with Winter Olympics in PyeongChang, South Korea.
PodcastOne Chairman Norman Pattiz said, "This will provide AP and PodcastOne subscribers with real-time, daily news reports, commentary and original content. It will provide additional power to the explosive growth of podcasting, while taking maximum advantage of the unmatched connection to listeners that podcasts already provide. AP Sports is everywhere with on-the-ground, first-hand coverage that will now be available via podcasts as never before."
"We are excited to work with PodcastOne to bring AP's unrivaled worldwide sports coverage to a new audience through on-demand digital audio programming -- a growing medium," said Anthony Brito, AP director for digital and commercial markets. "The expertise of our reporters and hosts, coupled with AP Sports content and PodcastOne's vast network makes for a winning combination for sports fans everywhere."
The deal also includes new PodcastOne and AP content, with some premiering as soon as this week. Additionally, "Red Circle Sports with Dennis Miller," "Riggle's Picks," "Real GM" and others will be added to PodcastOne SportsNet's line-up, which already includes Shaquille O'Neal, Dan Patrick, Steve Austin, Rich Eisen, Jim Harbaugh, Lilian Garcia, Ross Tucker, Dave Dameshek with Adam Carolla, plus team podcasts from the Los Angeles Lakers, Minnesota Vikings and dozens more.
Content produced by AP and PodcastOne SportsNet will be distributed on AP platforms, as well as PodcastOne.com and the PodcastOne app.
For more information, please visit http://www.PodcastOne.com or http://www.ap.org. To advertise, please contact PodcastOne at info@podcastone.com.
About AP
The Associated Press is the essential global news network, delivering fast, unbiased news from every corner of the world to all media platforms and formats. Founded in 1846, AP today is the most trusted source of independent news and information. On any given day, more than half the world's population sees news from AP. On the web: http://www.ap.org.
About PodcastOne
PodcastOne, (http://www.PodcastOne.com) the nation's leading advertiser-supported podcast network, was founded by Norm Pattiz, founder of radio-giant Westwood One. The network currently hosts more than 200 of today's most popular podcasts, including Adam Carolla, Shaquille O'Neal, Norman Lear, Steve Austin, Heather and Terry Dubrow, Jim Harbaugh, Geffen Playhouse, Dan Patrick, Laila Ali, Dr. Drew, Neil Strauss, Gabrielle Reece, Penn Jillette, Eddie Trunk, Rich Eisen, Jay Mohr, Laura Ingraham, the Forbes on PodcastOne Network and more.
###