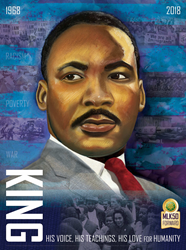 Dr. Bernice A. King, stated, "...with the current polarized climate, it is my hope that this King Holiday will provide an opportunity for people to commit to working toward the Beloved Community..."
ATLANTA (PRWEB) January 11, 2018
The King Center CEO, Dr. Bernice A. King announces plans for the 2018 commemoration of Dr. Martin Luther King, Jr.'s birthday. The seven-day King Holiday Observance includes a broad range of unique educational programs, activities, and events beginning Tuesday, January 9th, and concluding on Monday, January 15, the 32nd Anniversary of the King Holiday.
The King Center invites the public to participate in a variety of activities that reflect the spirit of inclusion, service, and brotherly love that Dr. Martin Luther King, Jr. promulgated. The theme for this year's commemoration is King: His Voice, His teachings, His Love for Humanity. This theme underscores Dr. King's commitment to spreading love and peace amongst all of humanity even through the most trying times. In the words of Dr. Martin Luther King Jr., "Nonviolence is absolute commitment to the way of love. Love is not emotional sentimentalism. It is the active pouring of one's whole being into the being of another."
The week's first event took place on Tuesday the 9th and was the Kick-Off Reception and Chef's Showcase, it featured renowned culinary masters Chef Daniel Thomas former chef for the President and US Senators, and Chef Samuel Simmons of Showcase Food Gallery. Sweet Georgia Juke Joint joined the evening with some of their signature dishes as well. This event was free and open to the public. The reception took place on January 9, 2018 from 6:30 p.m. to 8:30 p.m. The City of Atlanta's new Martin Luther King Jr. Recreation and Aquatic Center.
This year's Kick-off Reception included the presentation of the Dream Forward Community Service Awards. These awards celebrate individuals and entities that have supported The King Center and have had a positive impact on the community through the philosophy and methodology of Dr. King. This year's recipients received the passing of the torch from last year's honorees. In the area of Media, the historic Atlanta Daily World honored in the area of media. In the area of Community and Social Justice, both the Georgia Justice Project and the Latin American Association were honored. In the area of International Affairs, Mrs. Jennifer Barnes and her organization LifeTotes. Mr. Daniel Blackman was honored in the area of environmental justice. This year's faith-based spiritual leader honoree was Rev. Tim McDonald. The King Center inaugurated this year a new category. The inaugural elected-official award was bestowed upon Honorable Calvin Smyre.
This Saturday, January 13th is the return of the Salute to Greatness Awards Gala at the Hyatt Regency at 7pm. The King Center's premier yearly fundraiser, the black-tie gala is a mainstay of Atlanta's social calendar. This year's Salute to Greatness Corporate honoree is Chobani and their founder and CEO Hamdi Ulukaya will accept the award and the individual honoree is Senator Cory Booker. The Coretta Scott King A.N.G.E.L Award individual youth honoree is Ms. Alana Simmons founder of Hate Won't Win and organization honoree is the Boys and Girls Club. The Christine K. Farris Legacy of Service Award honoree is Dr. Robert L. Green will also be presented. Honorable Carmen Yulín Cruz, Mayor of San Juan Puerto Rico will be the recipient of a Special Recognition Award for her Humanitarian Leadership.
The evening will be spent dancing the night away in the annual Afterglow Celebration that will feature artists Doug E. Fresh, Michael Philips and DJ B-Hen.
A special thanks to our 2018 Salute to Greatness Sponsors:
Dream Sponsors: The Coca-Cola Company; Delta Air Lines; Ford; and Hyundai
Signature Sponsors: The Home Depot; The Target Corporation; Chobani;
Chick-Fil-A, FedEx
Special Thanks to our Afterglow Celebration Sponsors:
Afterglow Title Sponsor: Hyundai
Afterglow Corporate Sponsor: PNC Bank
Afterglow Media Partners: CBS Radio
On Sunday, January 14th, We've Got Next: Turning Readers into Leaders is the annual book event will be held from 3pm-5pm at The King Center. This year's book event will consist of a book drive as well as an interactive book reading to help promote literacy amongst our youth. The event will be hosted by Miss Yolanda Renée King, the only grandchild of Dr. Martin Luther King, Jr. and her cousins Miss Maryn Rippy and Miss Aliscia Beals the great-granddaughter of A.D. King and special guests will include Martin Luther King, III, Arndrea King, Dr. Angela Farris Watkins, Dr. Andrea Lewis, Xernona Clayton, Donald Bermudez and DJ Willy Wow. All donations from the book drive will be donated to areas affected by the recent hurricanes and to the homeless community.
The culmination of the King Holiday Observance is the Annual Commemorative Service on January 15th from 10am-1pm at the Historic Ebenezer Baptist Church. An opportunity for the community to join in praise and reflection, the Commemorative Service honors Dr. King's life, work, and legacy. The service will feature a keynote address by Dr. Bernice A. King. The international greetings will be done by Reverend Dr. Younghoon Lee Senior Pastor, Yoido Full Gospel Church (South Korea), and Dr. Deborah A. Bartlett, Gems, Radio, CEO, Journalist, Author (Nassau, Bahamas). Additional greetings done by the Honorable Casey Cagle Lieutenant, Governor, State of Georgia and The Honorable Keisha Lance Bottoms, Mayor, City of Atlanta. Tributes will be done by Ms. Bree Newsome , Film Maker, Activist, Musician, Mr. Javier Palomarez, President, CEO, U.S. Hispanic Chamber of Commerce, Reverend Robert Wright Lee, VI, Minister (Descendant of Robert E. Lee). Ms. Ginger Howard, Georgia Republic National Committeewoman.
Performances will be done by Miss Angelica Hale, from America's Got Talent Contestant, Mr. Frederic Yonnet, Producer, Recording Artist, Jazz Harmonist, Miss Ayanna Gregory, Songstress, Artist, Educator, Activist, Ms. Dottie Peoples, Gospel Vocalist, Songwriter, Producer, Dr. Earnest Pugh, Singer, Songwriter, The Dreamer Children's Choir Yoido Full Gospel Church (South Korea).
The week's final event is the Beloved Community Talk: Let's Bridge the Racial Divide Across Urban, Suburban and Rural America, on the evening of January 15th from 6pm-8:00pm at The King Center in The Yolanda D. King Theatre for The Performing Arts. A dynamic forum and a space for having difficult, yet needed, conversations, The Beloved Community Talk focuses on deconstructing systems and issues without attacking people, in the spirit of Dr. King's philosophy of nonviolence. This BCT deal specifically with the "role of men" in bridging the racial divide. This year's moderator is Reverend John Gray, pastor & author. Confirmed Conversationalist are Pastor Mike Hayes, founder of Covenant Church, Dr. Raphael Warnock, Pastor of Ebenezer Baptist Church, Rev. Robert W. Lee, IV, who is the descendant of Confederate General Robert E. Lee, Mr. Daryl Davis - Musician, author, lecturer, actor and race relations expert, Mr. Scott Shepherd - Former Grand Wizard, KKK.
Bishop Harry Jackson - Pastor of Hope Christian Church, Mr. Jaime Harrison, Chair of South Carolina Democratic Party and Mr. Randy Evans, Partner at Dentons LLP, and presidential selection to be next Ambassador to Luxembourg
In preparation for the 50th Anniversary of the commemoration of the Assassination of Dr. Martin Luther King, Jr. The King Center and its partners launches the 50 acts of kindness or service on the 89th birthday of Dr. Martin Luther King, Jr., and culminates this endeavor on April 4th which marks the 50th anniversary of his assassination. This initiative is an opportunity to encourage people to stretch themselves beyond their comfort zone and connect with another human being that they would normally not do so in an effort to build community one single act at a time.
The King Center's Partners for this opportunity are as follow:

National Park Service
Martin Luther King March Committee
Ebenezer Baptist Church
Points of Light
AmeriCorps
Hands on Atlanta
Georgia Department of Economic Development
Habitat for Humanity
Operation Hope-Global Dignity
Samaritan's FEET
National Center for Civil and Human Rights
Corporation for National and Community Service (CNCS)
Ebenezer Baptist Church
SCLC Women
Martin Luther King, Sr. Community Resource Collaborative
Soul of Philanthropy
Firehouse Creative Production
The Roman Catholic Archdiocese of Atlanta, Office of Intercultural & Ethnic Diversity
Martin Luther King, Jr. Advisory Council
SCLC Women
The King Center would like to thank the sponsors for the 50 Acts of Kindness or Service who are as follows: Target Corporation, FEDEX and Ford Motor Company.
The King Center's CEO, Dr. Bernice A. King, stated, "It is a moving experience to join with people from the local community and around the world to celebrate my father's life and work. With the current polarized climate, it is my hope that this King Holiday will provide an opportunity for people to commit to working toward the Beloved Community. I believe this will happen when people dare to connect and bridge across ideological and cultural differences. I am also deeply grateful for the continued support of the corporations, businesses, and individuals who underwrite our yearly Salute to Greatness Awards Gala, an event which helps us raise the funds that further our educational work training people from all walks of life to embrace Nonviolence365™ as a lifestyle. Please, join us and let's bridge the divide."
For more information about the events for this year's King Holiday Observance please log onto http://www.thekingcenter.org.
For media opportunities contact Carmen Luisa Coya-van Duijn ccoya(at)thekingcenter(dot)org.
About Us
The Martin Luther King Jr. Center for Nonviolent Social Change (The King Center) is a 501(c)3 organization established in 1968 by Mrs. Coretta Scott King. The King Center is the official living memorial and programmatic nonprofit organization committed to educating the world on the life, legacy, and teachings of Dr. Martin Luther King, Jr. The King Center serves to inspire new generations to carry forward his unfinished work, strengthen causes and empower change-makers who are continuing his efforts today. The King Center's premiere educational initiative, Nonviolence365™, is based on Dr. King's nonviolent philosophy and methodology. His teaching engages participants from various sectors of society, including emerging and next generation leaders, in modules and exercises that enhance communication, leadership, interpersonal and conflict reconciliation.