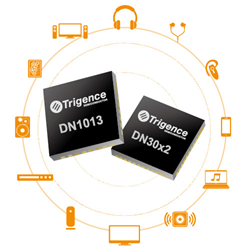 "With technology advancement and teamwork, Trigence has tuned its products to meet SHARP's exacting requirements. Now everyone can enjoy high-quality sound at home through a simple USB connection."said Pete Birch, CEO of Trigence
LAS VEGAS (PRWEB) January 11, 2018
Following the availability announcement of the world's first Dnote® USB Sound Bar– the Aquos Audio AN-SA1 by SHARP CORPORATION in Japan, Trigence Semiconductor Inc. today showcased the Fully-Digital Dnote®-based USB Sound Bar during CES 2018. The SHARP Aquos Audio AN-SA1 is a Fully-Digital sound bar capable of delivering a superior TV entertainment experience without the need for an external A/C converter or power supply. Utilizing only the TV's built-in USB connection, the high quality audio broadcast of TV sound is made simple and fast. SHARP's Aquos Audio AN-SA1 employs Trigence Semiconductor's DN3052, Dnote® Fully-Digital audio amplifier, based on Trigence's, and incorporates Trigence's proprietary Peak Power Assist circuitry.
"SHARP's Aquos Audio AN-SA1 is an amazing product!" said Pete Birch, CEO of Trigence Semiconductor Inc. "We were extremely happy to collaborate closely with SHARP on its design. With technology advancement and teamwork, Trigence has tuned its products to meet SHARP's exacting requirements. Now everyone can enjoy high-quality sound at home through a simple USB connection. Dnote® audio characteristics are pure and undistorted. Dnote® is unique both technologically and practically, offering lower power consumption and fantastic audio quality."
Trigence Dnote® PURE DIGITAL Audio technology is a leading-edge new audio delivery system developed specifically for today's digital products. The Dnote® system was developed in Japan, and is patented world-wide. Dnote® is entirely digital, and implementable on any generic bulk CMOS process node. With Dnote®, the high resolution digital signals generated within the processing chains of today's consumer audio products, are carried faithfully direct to the loudspeaker electro-mechanics. By employing multiple voice-coils, Dnote® is able to drive the loudspeaker digitally. The result is a clear and precise audio output signal that typically consumes as little as one third of the power of legacy outputs.
SHARP Aquos Audio AN-SA1, features full-digital configuration, without analog conversion, that maintains the pure tones present in the original sound production. It realizes powerful, high sound quality with less degradation through only a USB power supply. The SHARP Aquos Audio AN-SA1 has won a VGP (Visual Grand Prix) 2018 Design Award(企画賞), the audio industry's leading indicator awards in Japan. The SHARP Aquos Audio AN-SA1 sound bar will be display during CES 2018 from Jan. 9 to Jan.12 at the Mirage Hotel, Las Vegas, USA.
Request a Private Demonstration:
The 'Pure Digital' Dnote® audio ICs –DN1013, DU1213, DN30x2, and Trigence's Digital Speaker Modules (DSMs) will be on display during CES 2018 at the Mirage Hotel (3400 S Las Vegas Blvd., Las Vegas, NV 89109, U.S.A.). To request a private meeting and demonstration, please contact Contact(at)trigence(dot)com.
About Trigence
Trigence Semiconductor, Inc. is a pioneering audio IC design and solution provider, offering revolutionary 'pure digital' audio products for the consumer and IT markets. Founded in 2006 as a spin-off from Hosei University and headquartered in Tokyo, Japan, Trigence received its first investment in 2012 from Intel Capital based on the potential for its unique Dnote® audio technology to transform the PC audio market. Other subsequent investors include NEG (Nittoku Engineering Group) and TDK Corporation.
Website: http://www.trigence.com
*Dnote® is a trademark of Trigence Semiconductor in the United States and other countries.