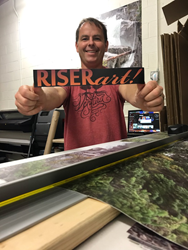 "Spearfishing is a challenging, truly unique experience. The sport is ripe with astounding images that create bonds between individuals throughout the world, across frontiers and with nature." Matt Davidson
Ventura, CA (PRWEB) February 12, 2018
The use of adhesive backed vinyl is increasing due to improved technology and fashion trends, as home and businesses diversify, customers are seeking décor solutions that reflect their values and sensibilities that doesn't break the budget. In this area, RISERart provides the best quality, value, and backs it up with a money back guarantee if not satisfied with their product.
"Since starting RISERart in 2016, we have seen significant increases in demand for non-traditional imagery (holiday and sport imagery) as well as an overall increased demand for our product", Chris Davidson, RISERart Marketing Director. RISERart provides a unique solution to customize home, work and business spaces, and with increased environmental awareness, we provide the most environmentally friendly materials in the industry. "Demand is not just associated with traditional images, as extreme sports become more popular, BTS captures a component of sports market imagery, its unique positioning generates exposure to fantastic oceanic photography both on shore and underwater", continues Ms. Davidson.
Blue Tuna Spearfishing in Brief
Blue Tuna Spearfishing has been a full service, one-stop spearo shop in Ventura, CA since 2008. BTS provides performance spearfishing gear from all over the world, to spearfishing enthusiasts from beginners to pros. Blue Tuna Spearfishing encourages anyone to discover a new world; the astounding underwater world of spearfishing. With years of experience including a world record, owner, Matt Davidson, has the expertise to recommend and provide quality gear. "Spearfishing is a challenging, truly unique experience. The sport is ripe with astounding images that create bonds between individuals throughout the world, across frontiers and with nature." Matt Davidson. RISERart wants to bring that world to their customers through images for home and office, indoor and outdoor and expand their market presence.