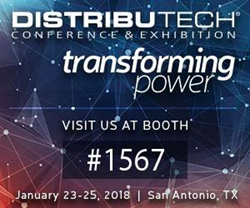 San Antonio, TX (PRWEB) January 15, 2018
NEXCOM is heading to San Antonio, Texas, next week to take part in the transmission and distribution industry's premier event—DistribuTECH. The event will bring together 520 exhibiting companies and 13,500 attendees for a display of the latest products, services and technologies in the power delivery and water utility technology industry.
Visitors to NEXCOM's booth, #1567, will have the opportunity to see its current offerings in edge and industrial IoT gateways, as well as wireless and device networking. Devices on hand will include NIO 200 ISA100/WirelessHART process automation wireless gateway, CPS 200 industrial IoT edge gateway, IWF 310 rugged industrial EZ mesh access point, among others.
For your chance to attend DistribuTECH and meet the industry's most innovative and progressive companies, click the link to register and use code DTPASS18 for a free exhibit floor pass. http://www.distributech.com/register.html
DistribuTECH Event Details:

Dates: January 23-25, 2018
Location: Henry B. Gonzalez Convention Center, San Antonio, Texas
NEXCOM Booth #: 1567
Exhibit Floor Pass Code: DTPASS18
About NEXCOM: Founded in 1992, NEXCOM integrates its capabilities and operates six global businesses, which are IoT Automation Solutions, Intelligent Digital Security, Internet of Things, Intelligent Platform & Services, Mobile Computing Solutions, and Network and Communication Solutions.