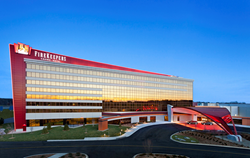 The InvoTech Uniform System has saved us an evident amount of labor costs for over a year and a half now and has provided valuable accountability.
Los Angeles, CA (PRWEB) January 17, 2018
InvoTech Systems is the leading provider of advanced Linen Management, Laundry and Uniform Systems that integrate the latest RFID technology to increase profitability for hotels, resorts, casino operators, sports arenas, convention centers and theme parks. The InvoTech System installed at FireKeepers Casino Hotel manages the Uniform inventory for 1,750 employees. FireKeepers joined MGM Entertainment, Caesars, and Harrah's as a part of InvoTech's extensive client portfolio of Casinos worldwide. Click here for more information on InvoTech's Linen, Laundry and Uniform Systems.
InvoTech's Uniform System establishes a perpetual uniform inventory and has extensive reporting capabilities to determine and forecast appropriate uniform purchases. The system tracks uniform inventory without manually sorting and hand-counting. Uniform cleaning costs are entered into InvoTech and reports may be quickly generated to audit laundry expenses to update budgets. The improved processes and information provided translates to significant cost saving benefits by eliminating losses, reducing purchases, and lowering laundry expenses and labor costs.
"The InvoTech Uniform System has saved us an evident amount of labor costs for over a year and a half now and has provided valuable accountability," said Christine Pelton, Wardrobe Manager at FireKeepers Casino Hotel. "The InvoTech team is very knowledgeable and they have a great support and training team."
The InvoTech UHF-RFID Uniform System tracks and provides automated reports on uniforms for approximately 1,500 team members. FireKeepers Casino Hotel uses a conveyor system that automatically delivers the correct clean uniform items to staff. InvoTech communicates with the delivery system to simplify and automate each property's operation by tracking when staff members retrieve their uniform with their employee ID card. The efficient process means the casino uniform accounting is accurate without the added expense of manual processes and recordkeeping. The InvoTech Uniform System is a paperless "green" system. The System includes an electronic signature capture terminal that records employee signatures when uniforms are assigned, which eliminates the need to print reports to obtain signatures. In addition, all system reports can be viewed on the screen or generated to PDF files to be easily viewed or shared.
"The InvoTech Uniform System manages all aspects of uniform operations. It monitors employee use and typically delivers an average of 25% savings in labor costs and a 5% reduction in on-going purchases," said Oswald Lares, Director of Sales & Marketing at InvoTech Systems, Inc.
InvoTech has over 500 of satisfied clients worldwide in more than 30 countries, including hotels, resorts, casinos, theme parks, stadiums, arenas, convention centers, medical centers, cleanrooms, and laundries. Why InvoTech? Because major brands like Hyatt, Marriott, Ritz-Carlton, Hilton, MGM International, Wynn Resorts, Caesars Entertainment, Universal Studios, LEGOLAND, Intel, Pfizer, Madison Square Garden, and Staples Center rely on InvoTech Systems to provide operational efficiency, full-accountability, and turn-key solutions for laundry, linen and uniform management. See what our clients are saying about us.
About InvoTech Systems
InvoTech Systems provides the most advanced inventory management systems for uniforms, linens, and laundry operations. Our very reliable and easy-to-use systems integrate the latest RFID technology to significantly improve operational efficiencies to eliminate losses, reduce purchases, cut labor costs, and lower laundry expenses. InvoTech provides solutions for hospitality, healthcare, cleanrooms, stadiums and arenas, theme parks, commercial laundries, and many other industries worldwide. With over 20 years of experience providing inventory management systems, InvoTech is known for our expertise and reliable solutions tailored to our client needs and outstanding customer support. Visit our website to find out more.
About FireKeepers Casino
FireKeepers Casino Hotel, owned and operated by the Nottawaseppi Huron Band of the Potawatomi, is located in Battle Creek, MI and has been named Best Casino by audiences in Western Michigan and Northern Indiana, plus earned 9 first place awards in the Casino Player Magazine Best of Gaming Native Midwest category, including Best Overall Gaming Resort. FireKeepers was also selected one of the Best Casinos to Work For by Casino Player Magazine. Our signature restaurant, Nibi, is a multiple recipient of the Wine Spectator Award of Excellence. The property features 2,900 slot machines, 70 table games, a live poker room and bingo room. FireKeepers offers a AAA-rated Four Diamond resort-style hotel with 243 rooms, a functional multi-purpose event center, six distinctive dining destinations, and multiple lounges. FireKeepers is the title sponsor of the FireKeepers Casino 400, a Monster Energy NASCAR Cup Series race at Michigan International Speedway, and host of the FireKeepers Casino Hotel Championship a Symetra Tour-Road to the LPGA golf event. For more information visit http://www.FireKeepersCasinoHotel.com
CONTACT:
InvoTech Systems, Inc.
Oswald Lares, Director of Sales & Marketing
20951 Burbank Blvd. Suite B
Woodland Hills, CA 91367 USA
Phone: 818-574-7795
Email: Sales(at)InvoTech(dot)com
http://www.InvoTech.com