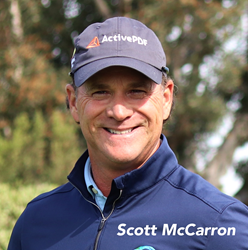 As a company, ActivePDF represents everything that is important to me as an athlete and as a person. ~ Scott McCarron
Laguna Niguel, Calif. (PRWEB) January 17, 2018
ActivePDF, a global leader in PDF automation, announces the renewal of their multi-year sponsorship agreement with professional golfer, Scott McCarron. This partnership continues to emphasize the importance of ActivePDF's commitment to community, technology and sportsmanship through collaborative corporate sponsorships.
A four-time PGA TOUR Champion, McCarron most recently won the Constellation Senior Players Championship in July, 2017 at Caves Valley Golf Club in Baltimore, MD. McCarron will continue to wear the ActivePDF Inc., logo on the front of his headwear for the entire 2018 and 2019 seasons. The recent agreement will continue to establish collaborative work between ActivePDF and McCarron. The partnership will feature a focus on community leadership, charitable contributions and integration within the PDF technology space.
"ActivePDF is once again pleased to extend our partnership with Scott McCarron for the next two years," says Tim Sullivan, CEO and Chief Architect at ActivePDF. "We look forward to continuing our work with Scott and the PGA TOUR Champions, as well as the opportunity to enhance the championship experience for users of ActivePDF solutions."
Partners since 2015, ActivePDF and McCarron approach the new season with renewed enthusiasm and a solid partnership with like-minded interests to showcase the launch of future products and other brand sponsorship opportunities.
"I'm beyond excited to extend my partnership with ActivePDF," says McCarron. "As a company, ActivePDF represents everything that is important to me as an athlete and as a person. We share the same commitment to community, philanthropy and humanitarianism. Together, we make a very powerful team!"
Along with wearing the ActivePDF brand logo on his headwear, McCarron will also participate in promotional appearances, meet-and-greet style events, and golf outings with ActivePDF partners. McCarron will join a team of ActivePDF brand sponsors, including PGA TOUR winner Charley Hoffman and the NHL's Anaheim Ducks.
About ActivePDF
Founded 2000, ActivePDF Inc., is privately held and is a global provider of PDF tools for integration within virtually any business process, including Enterprise Content Management (ECM), Document Management, and Workflow solutions. The ActivePDF suite is designed to streamline large volumes of rendering and assembly of content into accurate, secure and accessible PDFs. We serve over 25,000 customers from 90 countries in numerous industries including: Healthcare, Financial, Education, Manufacturing, Utilities, Engineering, Legal and Government. For more company information, visit ActivePDF at https://www.activepdf.com.
For additional information or to set up an interview contact: Derek Gerber, Director of Marketing derek.gerber(at)activepdf(dot)com
####
ACTIVEPDF and the ActivePDF Logo are registered trademarks of ActivePDF, Inc. All other trademarks are property of their respective owners.