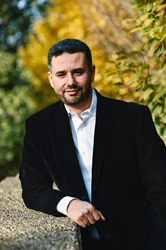 ALEXANDRIA, Va. (PRWEB) January 17, 2018
There are more than 29.6 million small businesses on record in the United States.1 The United States Small Business Administration Office of Advocacy's Small Business Profile also indicated that in the second quarter of 2015 alone, there were 234,000 establishments that started up.1 These small businesses cover all types of industries, including professional services, construction, health care and social assistance, retail trade, transportation, manufacturing, food services, utilities, educational services and so many more.1 "One common theme that these small businesses, along with medium-sized businesses, tend to struggle with is managing call volume," stated Amr Ibrahim, Chief Executive Officer for ULTATEL. Dating back to the 1990s, companies like American Express and General Electric moved their back office operations to India.2 Over the years, numerous businesses of all sizes have turned to call center operations.2
The call center industry is so expansive with offshoring, onshoring and nearshoring, that it is hard to tell its exact size.2 Although the size of the call center industry is difficult to detect, what is known is that the two leading offshore call center destinations are the Philippines and India.2 Currently, the Philippines is the largest offshore voice-related call center market with more than 400,000 call center workers, while India is not far behind with 350,000 workers.2 There are also a number of call centers in America with Texas, Florida and Arizona being the top states.2
Each and every day call centers around the world deal with an extraordinarily large call volume.3 In general, businesses utilize call centers to facilitate calls regarding sales, marketing, customer service, technical support and helpdesk inquiries.3 Call centers have traditionally been expansive spaces with sea of rows where on-staff phone operators use costly, specialized software that runs from server racks that are wired to enormous Private Branch Exchanges (PBXs) able to route hundreds of calls simultaneously.3 However, as technology evolves, so will call centers.
There is another solution that is gaining traction for numerous small to midsize businesses, which is more cost effective, reduces overhead and incorporates a sophisticated suite of call center software features.3 This call center software tends to be cloud-based and is an expanded version of today's Voice-over-IP (VoIP) services.3 Not only does it handle the large volume of phone calls, but it also routes the calls to the appropriate queue based upon what the customer is calling about, and whether or not the customer called recently.3 To assist with call routing, some call center systems have an auto-attendant feature or intelligent phone menu.3 These systems may also collect help desk data, and route customer and call data to the customer relations management (CRM) system, which allows for future analysis.3
With these cloud-based call center services options, associated expenses are decreasing since costly and oversized hardware PBXes and numerous phone lines are no longer needed.3 This cloud-based technology also eliminates the need for a dedicated IT staff, which can be reallocated to information management.3
The main requirement is to have a reliable, high-speed Internet connection, along with the specialized software.3 There are numerous benefits to this cloud-based solution, including customizable phone routing rules, monitoring, recording and reporting on calls, having voicemail go directly to email address and integrating with an open application programming interface (API).3 "ULTATEL is proud to be a full-service provider, which allows us to consult with companies and simplify their telephone system needs by having their communications centralized and stored," notes Ibrahim. "ULTATEL's cloud-based telecommunications suite is available anywhere at any time, and allows companies to significantly improve responsiveness, increase productivity, enhance globalization efficiencies and greatly reduce costs associated with telecom operations as much as 20% to 50%." Additionally, this is a case where size doesn't matter, because ULTATEL can easily expand a company's system size, as needed, when they grow, without immense fixed costs or long-term commitments.
About ULTATEL
ULTATEL is a leading provider of cloud-based phone system solutions. Through its unified communications platform, companies can have all their voice, video, fax, SMS and audio conferencing services on one affordable system. ULTATEL Business clarity with more than 40 enterprise grade features -helps companies to operate from a single location or multiple locations seamlessly using desktop phones, softphones or mobile apps. ULTATEL Contact Center solution satisfies the need for call center features like advanced Interactive Voice Response (IVR), call queuing, skilled/time based routing and advanced call analytics.
ULTATEL's vision is to completely change how companies conduct business by delivering the most comprehensive suite of unified cloud-based telephony services that dramatically improve responsiveness, increase productivity, enhance globalization efficiencies, and reduce operating costs so that businesses can most effectively compete both today and in the future. Visit https://www.ULTATEL.com/.
1"United States Small Business Profile, 2017." SBA Office of Advocacy. sba.gov/sites/default/files/advocacy/All_States_0.pdf.
2White, King. "How Big Is the U.S. Call Center Industry Compared to India and The Philippines?" Info.siteselectiongroup.com, 17 Feb. 2015.
info.siteselectiongroup.com/blog/how-big-is-the-us-call-center-industry-compared-to-india-and-philippines
3Rist, Oliver. "The Best Call Center Features for Small to Midsize Businesses (SMBs)."PCMAG, 10 Nov. 2017.
pcmag.com/roundup/352149/the-best-call-center-features-for-small-to-midsize-businesse