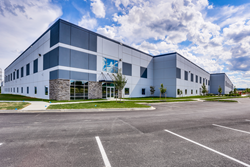 "We are excited to welcome Goodwill to our portfolio and are proud to be a part of this exciting new e-commerce opportunity in Frederick," Brad Benna, Matan Companies
FREDERICK, Md. (PRWEB) January 19, 2018
Matan Companies announced today the signing of a 110,000 square-foot, full building lease with Goodwill Industries of Monocacy Valley, Inc. at their Wedgewood West project in Frederick, Maryland.
The location, at the corner of New Design Road and English Muffin Way, will be the e-commerce headquarters for Monocacy Valley Goodwill. Goodwill's web-based e-tail platform, shopgoodwill.com, started in Orange County, California over 20 years ago and has been thriving ever since.
Matan began construction on the 6-building, 675,000 square foot Wedgewood West project in December of 2015 and will complete the final phase of the development with the delivery of Goodwill's building. Drive-in loading docks, 30 foot ceilings, wide column spacing, state-of-the art design, and prime location, make Wedgewood West the ideal facility for their operations.
Tyler-Donegan Real Estate Services represented the tenant in this transaction.
"We are excited to welcome Goodwill to our portfolio and are proud to be a part of this exciting new e-commerce opportunity in Frederick," said Brad Benna of the Matan Companies. "We are currently marketing the recently delivered Building C, a 130,000 square-foot, 30 foot clear distribution building," Benna added.
In addition to Goodwill E-commerce, Wedgewood West's strong tenant roster includes Thermo Fisher Scientific, Premium Distributors, Emser Tile, Rainforest Distribution, Heartline Fitness, Wholesalers USA, and Precision Doors & Hardware.
For more information about Wedgewood West, please visit http://www.wedgewoodwest.com.
About Matan Companies
Matan Companies, headquartered in the Washington, D.C. suburbs, is one of the region's premier commercial real estate services and development firms. Founded over 35 years ago on the principle of providing a comprehensive, full service approach, the firm's current portfolio consists of over 6 million square feet of office/industrial assets, 3 million square feet in the development pipeline, several active residential developments, and a separate portfolio of multifamily units. The company delivers a full range of services to their real estate investors and tenants including asset and property management, leasing, and tenant services.
For additional information about the Matan Companies, please visit http://www.mataninc.com
For additional information about Goodwill, please contact mmeyer(at)gimv.org [Michael Meyer __title__ Michael Meyer email]