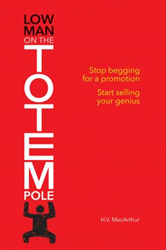 Layoffs. Unemployment. Retirement costs. Economic downturns. All these topics fill our headlines as bad news
LOS ANGELES (PRWEB) January 25, 2018
Within the pages of H.V. MacArthur's new book Low Man on the Totem Pole readers will find practical tips and real-world examples for moving away from passively letting your job happen to you and finally making success appear in your life. Written to help anyone who is tired of running in the rat race, this book is a rallying cry for confidence and empowerment.
"Layoffs. Unemployment. Retirement costs. Economic downturns. All these topics fill our headlines as bad news," states the author. "But the heart of our country is built on an entrepreneurial spirit. This book is a reminder of how we empower ourselves. We've been conditioned as 'employees' to chase promotions and beg for raises. Instead, we need to remember we are business owners and the companies we work for are our clients. Learn to manage your business and drive your success vs. wait for it."
About the Author
H.V. MacArthur was raised in a poor, small town by parents who never graduated from high school, but valued hard work, education, and the spirit of a hustler. Now a military veteran with a master's degree, MacArthur is an experienced executive coach. You can find more information about the author at LowManOnTheTotemPole.com or contacting heather.macarthur(at)lmtpconsulting(dot)com.