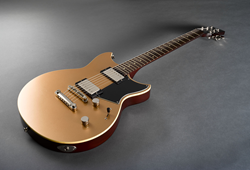 "These stunning new finishes are in line with Revstar's overarching raw-power, high-performance aesthetic of vintage street-racing motorbikes," said Armando Vega, marketing development, YamahaGuitars.
ANAHEIM, Calif. (PRWEB) January 25, 2018
Yamaha today unveiled six bold new colors to add to the Revstar line of solid-body electric guitars, expanding their series of instruments designed in the style of '60s-era European café-racer motorcycles.
The new finishes and the models carrying them include Ice Blue and Vintage White (both RS320), Maya Gold (RS420), Black (RS502T), Snake Eyes Green (RS620), and Shop Black and Vintage Japanese Denim (both RS720B).
Yamaha designed the Revstar series with painstaking attention to detail, seeking input from professional guitarists and other experts from around the globe. Stunning colors and finishes complement the sleek body contours, while hand-wound pickups and materials perfectly match each instrument's character. Yamaha engineers designed a proprietary Dry Switch to enhance the tone of six guitars in the series, offering the versatility of a coil split and helping to deliver a tone that distinguishes Revstar from the rest of the pack.
"These stunning new finishes are in line with Revstar's overarching raw-power, high-performance aesthetic of vintage street-racing motorbikes," said Armando Vega, marketing development, Yamaha Guitars. "Revstar guitars are meticulously crafted to sound as good as they look. We spent years perfecting these models, making certain that Revstar guitars include the right balance of engineering, technology and innovation that will inspire players who seek to go beyond the ordinary."
Revstar draws on more than 50 years of the history of legendary Yamaha Guitars, first introduced to the worldwide market in 1966. Beginning with the SG solid-body series, Yamaha Guitars earned a reputation for delivering great value and quality. Renowned guitarists who played SG models include Carlos Santana, studio ace Robben Ford, Phil Manzanera (Roxy Music), Steve Cropper (Stax/Volt), Mick Jones (Foreigner), Brian Robertson (Thin Lizzy) and jazz giants Larry Carlton and John McLaughlin. Other vaunted solid-body electric guitar lines include the RGX, the Weddington and the Pacifica.
The Revstar line of guitars was honored recently at the 2017 Good Design Awards, one of the most prestigious product recognition programs of its kind. Revstar earned the award from a field of 4,495 submissions received this year by the Japan Institute of Design Promotion (JDP).
Pricing and Availability
The new finishes for Yamaha Revstar guitars will ship in March 2018, available for the following models:
Models: Pricing (MSRP)
RS320 (Ice Blue, Vintage White): $629
RS420 (Maya Gold): $779
RS502T (Black): $1,129
RS620 (Snake Eyes Green): $1,159
RS720B (Shop Black, Vintage Japanese Denim): $1,549
For more information, visit the Yamaha Booth at the 2016 NAMM Show in the Anaheim Marriott Hotel, Marquis Ballroom, January 25-28, 2018, or http://4wrd.it/Revstar
-END-
About Yamaha
Yamaha Corporation of America (YCA) is one of the largest subsidiaries of Yamaha Corporation, Japan and offers a full line of award-winning musical instruments, sound reinforcement, commercial installation and home entertainment products to the U.S. market. Products include: Yamaha acoustic, digital and hybrid pianos, portable keyboards, guitars, acoustic and electronic drums, band and orchestral instruments, marching percussion products, synthesizers, professional digital and analog audio equipment, Steinberg recording products and NEXO commercial audio products, as well as AV receivers, amplifiers, MusicCast wireless multiroom audio systems, Blu-ray/CD players, earphones, headphones, home-theater-in-a-box systems, sound bars and its exclusive line of Digital Sound Projectors. YCA markets innovative, finely crafted technology and entertainment products and musical instruments targeted to the hobbyist, education, worship, music, professional audio installation and consumer markets.