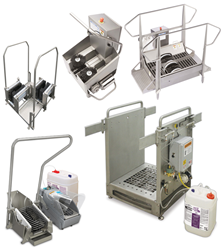 This is a significant step forward for food processors.
NEVADA CITY, Calif. (PRWEB) January 25, 2018
Food processors who use disposable shoe covers may be solving the problem of employees' street shoes coming into contact with clean, production area floors, but shoe covers bring a host of other potential problems with them. Food safety specialists, Best Sanitizers, Inc. wants food processors to start the new year thinking about the real cost of using shoe covers, and the potential problems they can bring.
CROSS-CONTAMINATION: Shoe covers can pick up soil and contaminants as easily as street shoes. Once they become adulterated, they can spread contamination wherever the employee walks in the facility.
COST: A 100 person shift can go through 4 sets of shoe covers per person per shift. That can average $200 per day and $50,000 per year.
CONFUSING PROTOCOL: Following facility rules about who can walk where with shoe covers can be confusing, which leads to infractions in protocol.
RIP & TEAR: Disposable shoe covers can rip and tear, exposing the facility to potential cross-contamination.
NO KILL STEP: Shoe covers are a passive solution and do nothing to reduce pathogens. Fighting cross-contamination from footwear requires a more active approach.
Best Sanitizers has a better solution: Eliminate the need for shoe covers by cleaning and sanitizing workers' shoes before they enter critical control areas. Using Best Sanitizers' BSX Boot Scubber Series, workers can clean footwear to remove contaminants, soil and debris. Once shoes are clean, they can be sanitized using the HACCP SmartStep or HACCP Defender Footwear Sanitizing units. These units use compressed air to deliver an atomized spray of Alpet® D2 or Alpet® D2 Quat-Free Surface Sanitizer to footwear soles. Each worker receives a fresh application of sanitizer for consistent, measurable results every time.
The HACCP SmartStep™ Footwear Sanitizing System has a compact footprint and can go practically anywhere in the food processing facility. The unit is foot-operated and only uses 0.2 ounces of Alpet D2 per foot, which minimizes chemical waste and helps control moisture, making it ideal for dry food processing facilities. The larger option, the HACCP Defender™ Low-Moisture, Walk Through, Automatic Footwear Sanitizing Station supports traffic flow and improves pathogen reduction to critical areas of the facility. Food processing facilities, nutraceutical plants, pharmaceutical plants, clinical research labs and clean rooms can use either unit individually or in combination to maximize pathogen protection throughout their facility.
"These are very versatile systems. The BSX Series, the HACCP SmartStep™ and HACCP Defender™ provide processors with an effective system in the fight against cross-contamination from footwear," added Ryan Witt, Best Sanitizers' Vice President of Sales and Marketing. "This is a significant step forward for food processors."
Best Sanitizers, Inc. carries a wide variety of products designed to help food processing and food service companies reduce cross-contamination including, sanitizing hand soaps, hand sanitizer sprays and foams, surface sanitizers, industrial cleaners, boot scrubber units and footwear sanitizing systems. Best Sanitizers also carries the largest selection of dispensing options in the industry. Visit: http://www.bestsanitizers.com for complete product information and video demonstrations.
About Best Sanitizers, Inc:
Since 1995, Best Sanitizers, Inc. has been providing the Food Processing industry with the highest quality hand soaps, hand sanitizers, industrial cleaners, and surface sanitizers available. In addition, Best Sanitizers offers cleaning and sanitizing equipment designed specifically for the food processing industry, including boot scrubbers, footwear sanitizing units, doorway foamers, drain foaming accessories, stainless steel racks, and proportioning and dispensing equipment. These products are used in over 9,000 U.S. food processing facilities. Best Sanitizers was the first company to achieve an E3 rating for an alcohol-based hand sanitizer, the first to achieve a D2 rating for an alcohol/quat-based surface sanitizer, and continues to explore new and innovative ways to deliver hand hygiene and surface sanitation solutions.