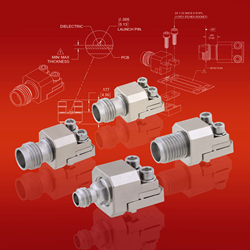 "Our new family of end launch connectors delivers amazing VSWR performance with a reduced mounting profile, allowing our customers to fit even more connections in the same PCB area," said Dan Birch, Product Manager at Fairview Microwave
LEWISVILLE, Texas (PRWEB) January 25, 2018
Fairview Microwave Inc., a supplier of on-demand microwave and RF components, has released a new line of high-speed end launch connectors. They are ideal for signal integrity measurements, chip evaluations, coplanar waveguide, 25 GbE, SERDES, substrate characterization and test fixture applications.
Fairview's new line of high-speed end launch connectors is comprised of 4 models that provide VSWR as low as 1.10:1 and a maximum operating frequency of 40 to 110 GHz, depending on the model. These connectors are reusable, don't require any soldering and have a compact profile with a 0.350-inch mounting width and a 0.005-inch launch pin. They feature an outer conductor made of stainless steel and a gold-plated beryllium copper center contact. These end launch connectors are ideally suited for high-speed digital and mmWave system development.
"Our new family of end launch connectors delivers amazing VSWR performance with a reduced mounting profile, allowing our customers to fit even more connections in the same PCB area," said Dan Birch, Product Manager at Fairview Microwave.
Fairview's new high-speed end launch connectors are in stock and ready for immediate shipment with no minimum order quantity. For detailed information on these products, please visit https://www.fairviewmicrowave.com/rf-products/high-speed-end-launch-connectors.html.
For inquiries, Fairview can be contacted at +1-972-649-6678.
About Fairview Microwave:
A leading supplier of on-demand RF and microwave products since 1992, Fairview Microwave offers immediate delivery of RF components including attenuators, adapters, coaxial cable assemblies, connectors, terminations and much more. All products are shipped same-day from the company's ISO 9001:2008 certified production facilities in Lewisville, Texas. Fairview Microwave is an Infinite Electronics company.
Press Contact:
Peter McNeil
Fairview Microwave
17792 Fitch
Irvine, CA 92614
(978) 682-6936 x1174