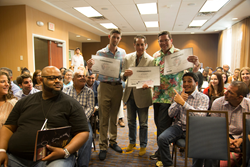 We don't just support one cause and that makes our GSB program unique from other companies. ~Andy Albright
BURLINGTON, N.C (PRWEB) January 25, 2018
National Agents Alliance (The Alliance) hit a new company high in 2017 by donating more than $150,000 to charities and non-profit organizations through its Good Samaritan Bonus (GSB) program, President and CEO Andy Albright announced this week.
The Alliance, an Insurance Marketing Organization headquartered in Burlington, N.C., started its GSB program in 2013 as a way to inspire its agents to donate money to charities around the world and to experience the feeling of helping others in need.
A total of 861 GSB checks for $100 to $350 were awarded in 2017. The Alliance had 151 different agents win at least one check and some earned checks in all 12 months.
The $150,000 donated in 2017 was triple the company's previous high of $50,000 in 2014. The Alliance has donated more than $300,000 through the GSB program since 2013.
"We had an amazing year in 2017, and we are raising the bar this year for our organization," Albright said. "Every month, I love seeing how many charities we support and I enjoy getting thank you letters and hearing stories about how our donations are impacting the world and the good work of so many charities."
Albright, who started the GSB program in 2013, wanted to find a way to inspire his network of insurance agents to donate money to charities around the world, and also experience the feeling created by supporting charities and non-profit organizations. The program meets the latter portion of the company's motto to "Have Fun, Make Money and Make a Difference."
Each month, qualifying agents are allowed to select the charity or non-profit of their choice to receive the check. Albright says letting agents pick any charity separates his gifting program from most other companies.
"We don't just support one cause and that makes our GSB program unique from other companies," Albright said. "I want our agents to have the freedom to support whatever cause is near and dear to their hearts. It has been a powerful program that has allowed The Alliance to make a difference in the world to those who need our help."
For The Alliance, giving back through service-work and by donating money to charities is something its sales force wants to do. In fact, it is part of the job description. That service-based mindset is not lost on insurance carriers that partner with The Alliance to offer financial products to clients.
The Alliance has donated to non-profit organizations like: Make-A-Wish, St. Jude Children's Hospital, Tim Goad International, Duke Children's Hospital, American Cancer Society, Alzheimer's Association, Wounded Warrior Project, Big Brothers-Big Sisters, Juvenile Diabetes Research Foundation, Boys & Girls Clubs of America, Autism Speaks and many other churches and charities.
In 2017, Albright tweaked GSB requirements in an effort to allow even more agents to earn GSB checks each month. The company's goal for 2018 is to donate more than $250,000 to charities around the world.
"I believe that 2018 will be our biggest year yet in terms of charitable donations through the GSB," Albright said. "I would love for us to not only hit $250,000, but to blow right past that mark and give away even more to as many charities as possible. This is a program that I'm proud of and our agents love being able to help charities around the world."
About National Agents Alliance (The Alliance)
National Agents Alliance (The Alliance) is an insurance marketing organization that recruits life insurance agents across the United States. With approximately 150 employees at the home office in Burlington, N.C., it provides a proven sales system, state-of-the-art lead program, acts as liaison to partner carriers and provides assistance for agents to receive training. The Alliance has agents in all 50 states and is dedicated to putting clients first. We are affiliated with over a dozen highly rated insurance carriers such as Mutual of Omaha, Transamerica, Foresters and CFG, providing products for agents that are in high demand. Since 2002, The Alliance has offered more than $100 billion in coverage to more than 1 million families.
For more information, please contact Mac Heffner at mheffner(at)naaleads(dot)com or at 336.227.3319 x1189.