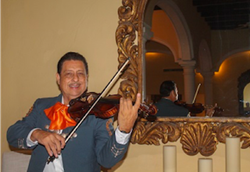 PUERO VALLARTA, Mexico (PRWEB) January 25, 2018
Always wonder about the story behind Mexico's famous mariachi music? Here's a guide to the music that was recognized an intangible cultural heritage by UNESCO, written by Felipe Romero Figueroa, Director of Puerto Vallarta's Mariachi Vallarta 2000. Mariachi is believed to have originated in Jalisco, the state in which Puerto Vallarta is found, in the 18th century. You can find Romero and his group nightly at Velas Vallarta resort, where his group has performed 365 days a year for the last 12 years. Romero Figueroa is the son of Felipe Romero Huerta, founder of the legendary mariachi "Los Pipianes" (1950 - 1982), honored in 2008 by then President Javier Bravo for his legacy and contribution to the Mariachi. Romero Figueroa has his own distinctions, one of which was his participation in multi-Grammy award winner Linda Ronstadt's first album of Mexican traditional Mariachi music, Canciones De Mi Padre. Over the past 65 years, he has toured in Mexico, the United States and Europe. In 2000, he started Mariachi Vallarta 2000 which his son joined at the age of 14, continuing the family tradition. Velas Vallarta showcases Mexico's cultural customs with traditional arts & crafts workshops and Mexican cuisine, but most importantly, with nightly musical performances from Felipe Romero Figueroa and his Mariachi Vallarta 2000

How many performers are in a mariachi?
A full mariachi is 8 musicians - 2 trumpets, 3 violins, guitarrón, vihuela and guitar. It is important that all sing well.
Are there different "genres" of mariachi depending on the region where the group plays?
Mariachi is a musical group that can cover many genres, from dance music, classical, and romantic to folk. Depending on what is popular in the region, different instruments or sounds are used but always the essence is maintained. The mariachi is a genre by itself and one must take care of that. It can be versatile but it should not change its essence.
Where, when and how did mariachi music originate? Do you think the word mariachi comes from the French word "Marriage"?
No. There are historians who say that the mariachi began in Cocula, Jalisco in the 18th century.
What are the most popular topics of mariachi?
The king, sunset, divine women, Guadalajara, little piece of heaven, and love. The classic mariachi song is "El Son de la Negra," a sad song about separated lovers.
Are there women mariachis?
Of course, yes, and many. It was thought that women began to participate in the mariachi recently, but that's not true. The first female mariachis began in Mexico City in the 1950s.
Is there such a thing as traditional and modern music?
Yes. Mariachi Vallarta 2000 is very traditional, even with the clothes. A mariachi must be well-dressed, without a beard and well-groomed. He must wear a black charro suit with silver buttons up the trousers, long sleeve shirt, neck tie, and jacket with brooches (ornaments fastened with a clip) along the sleeves and the chest.
What is the best mariachi in Mexico?
Rubén Fuentes is the director of the Mariachi Vargas de Tecalitlán, considered the best mariachi in the world for over 100 years.
How do you learn to be a mariachi?
The highest form of education is being mentored, apprenticing, from generation to generation. Whoever wants to be a mariachi must know music, learn, and begin to practice with his family from a very young age.
For reservations or more information, please call 1-888-407-4869 or visit http://www.velasvallarta.com.
About Velas Vallarta
Velas Vallarta is an all-inclusive family resort located on 10 acres of oceanfront with lush gardens in Puerto Vallarta, walking distance of Marina Vallarta Golf Course and just minutes from downtown Puerto Vallarta. Situated on the emerald waters of Banderas Bay, Velas Vallarta features 345 suites in three eight-story buildings, a high-tech Convention Center that can accommodate up to 700 people, three swimming pools, a rejuvenating spa along with spa cabins seaside, fitness center, multiple restaurants, and an inviting lounge with live music. Nightly theme dinners and local specialties are sure to please even the most discerning palate, and room service is available around the clock. When it comes to daytime and evening entertainment, guests can choose from an exciting and original array of activities and events, from making piñatas and jewelry, yoga on the jetty to Mexican fiestas and casino nights. The recently renovated Kids' Club also welcomes children under 13 with supervised activities like treasure hunt, face painting, sand castles to crafting with beads, allowing parents to indulge in a choice of exciting or relaxing pursuits like a game of golf, a variety of excursions or pampering at the spa. In addition, the resort was one of the first in the destination with a Green Globe certification, dating back to 2008. Puerto Vallarta features championship golf courses, world-class spas and magnificent beaches, not to mention various sports and activities up in the Sierra Madre Mountains. The possibilities for rest and relaxation, or fun and excitement, are endless. Velas Vallarta was built and is operated by Eduardo Vela Ruiz, owner, founder and president of Velas Resorts, with brother Juan Vela by his side, vice president of Velas Resorts.