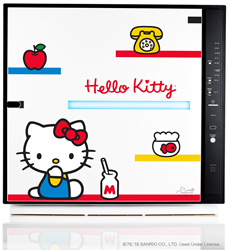 We are pleased that so many, young and old, find comfort and charm in this product that is both life changing and room brightening."
LOS ANGELES (PRWEB) February 02, 2018
Rabbit Air Purifiers has launched its Hello Kitty Special Edition model. The air purifier—a combination of the company's advanced purification technology along with the irresistible charm of Sanrio's heroine—was released in Japan last year to great praise. The air purifiers cover between 700 and 815 square feet and feature Rabbit Air's acclaimed HEPA filtration system, designed to eliminate odors, pet dander, dust, and harmful chemicals released by products in our homes. Customers can even choose the SPA-780N model which can connect to their home's WiFi network and let them control their air purifier from anywhere using their iPhone.
Rabbit Air has been known to adorn its products with popular works of art and characters. Its Artists Series features air purifiers designed with works by artists such as Hiroshige, Hokusai, Monet, and Van Gogh on their front panels. Another special editions, like this one, includes Peanuts characters.
"Our Hello Kitty air purifier reflects our company's core values—hard work, efficiency, and intelligence, paired with a healthy dose of delight and fun," said Rabbit Air's VP of Business Development Edwin Cheung. "We are pleased that so many, young and old, find comfort and charm in this product that is both life changing and room brightening."
The Hello Kitty Edition Rabbit Air Purifier is available on the company's website, http://www.rabbitair.com and retails for $539.95.
PR contact:
Olivia Raya
oliviar@rabbitair.com
562.861.4688