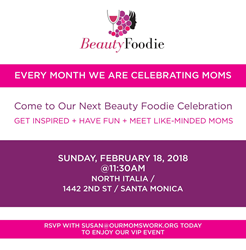 Every month we are celebrating and helping moms find jobs they love come join our next Beauty Foodie Party to start today
SANTA MONICA, Calif. (PRWEB) January 30, 2018
Our Moms Work is an intentional social community celebrating and helping moms find jobs they love thru meaningful parties. Moms attend Beauty Foodie Parties to be inspired, have fun, and meet like-minded friends.
First Beauty Foodie Lunch Party will be held on February 18, 2018 at North Italia restaurant in Santa Monica. The lunch is sponsored by Recruiting for Good, a staffing agency based in Santa Monica.
According to Our Moms Work, founder, Carlos Cymerman, "Our purposeful goal is to help 100 awesome moms find jobs they love in 2018."
About
Recruiting for Good since 1998, has been connecting talented Accounting/Finance, Engineering, and IT professionals to great jobs. "Our fun cause is to help moms find jobs they love." Recruiting for Good offers 'cost free' staffing services for L.A. companies and nonprofits that hire "our moms" for administrative, marketing, and operation (HR, legal, sales) positions.
Our Moms Work is an intentional social community celebrating and helping moms find jobs they love. L.A. Moms who volunteer in the community (Boy/Girl Scouts, nonprofits, PTA/PTO); are invited to partake in Beauty Foodie Parties, and meaningful jobs fairs, to learn more visit http://www.OurMomsWork.org