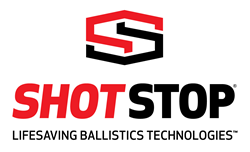 We make products that save lives; we don't take that lightly.
STOW, Ohio (PRWEB) January 30, 2018
When it comes to poly body armor plates, the primary advantage is packing a powerful defense with minimal weight and bulk. ShotStop® Ballistics has developed a patented technology that has established a new standard for comfortable, lightweight, multi-hit NIJ III+ protection.
The secret? ShotStop's patented Duritium® technology results in a 30 percent reduction in thickness and weight when compared to the next best poly body armor plate on the market at the same NIJ III+ protection level. In many cases, the Duritium-based plate is up to half as thick as other comparable stand-alone poly plates. This means your officers in the field have the same level of protection with much less bulk and weight for dramatically improved comfort and general mobility.
The strength of ShotStop's Duritium technology also allows the company to offer a 10-year warranty on its armor plates, whereas the industry standard is typically five years. When compared to the inexpensive and heavy ceramic armor plates on the market, this warranty is essential, as there is no potential of cracking during ownership.
All of this leads to increased comfort, more piece of mind, and higher maneuverability...resulting in the likelihood of higher survivability in active threat situations.
Watch this video of ShotStop's NIJ III+ 100 percent poly plate.
For those looking at lightweight polyethylene rifle plates for their next purchase of armor protection, considering ShotStop's new ultra-light, ultra-thin, high protection plates is a smart move.