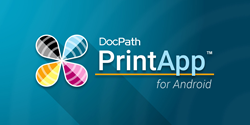 PrintApp offers a secure and easy-to-use print solution that meets the mobile document printing needs of organizations of any industry and size.
SUWANEE, Ga. (PRWEB) January 31, 2018
DocPath, a leading document software provider, has recently announced the official launch of DocPath PrintApp, a new and flexible enterprise document print solution that allows business documents to be printed over the Internet or the corporate network from any mobile device.
DocPath PrintApp consists of two main components: a mobile app that can be downloaded from Google Play, and a central service that interacts with the app to securely receive and send document print jobs within the corporate network. The app is currently available for AndroidTM, and will be launched for iOSTM shortly.
The mobile document printing experience offered to PrintApp end-users includes an easy-to-use mobile app with an embedded file explorer, and the ability of sending different document fomats directly via Android´s print service to PrintApp-enabled printers, resulting in a streamlined business workflow.
Organizations, on the other hand, greatly benefit from the many options offered by PrintApp, as this document software enables their employees, agents, providers, etc., to instantly send any document to one of the company´s printers from their tablet or smartphone. Meanwhile, their IT departments maintain central control over PrintApp users, print jobs and PrintApp-enabled printers, with enterprise-grade security and tracking.
In conclusion, PrintApp offers a secure and easy-to-use print solution that meets the mobile document printing needs of organizations of any industry and size.
About DocPath
DocPath is a leading business document software manufacturer that provides its world-wide customers the technology that allows them to complement their existing ERP and implement sophisticated Customer Communications Management and Document Output Management systems, as well as advanced document spooling software. Created in 1992, DocPath's Solutions are found in companies scattered across the globe. Its international clients include prestigious banks and first class corporations, which are aided by DocPath's Solutions as the complicated and critical tasks involving the design, generation and distribution of business and customer documents are significantly simplified. DocPath maintains a strong commitment to R&D&i, an area that receives a good amount of its revenue, and in which lies the key to the company's success.
For more information, visit: http://www.docpath.com.
Disclaimer: Android and Google Play DocPath logo are Google Inc. registered trademarks. IOS is a trademark or registered trademark of Cisco in the U.S. and other countries and is used under license. DocPath and the DocPath logo are DocPath Corp. registered trademarks. All rights reserved. Other mentioned trademarks may be property of their respective owners.