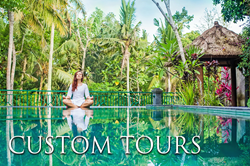 From corporations to universities, recently many organizations have booked custom tours through our company because of the convenience and high-quality service that we offer
LOS ANGELES (PRWEB) January 31, 2018
In response to the growing number of customized tours, Charming Travel Destinations recently improved its custom tours program to ease the process for travelers to customize their tours.
Personalization affects more than 50 percent of consumer's shopping decisions and more than 70 percent choose companies that provide personalized services. Many of today's consumers prefer personalization and uniqueness, which is one of the reasons why custom tours are trending within the travel industry.
With the company website's shopping cart, customers can not only book through a call or email but also online. The process is broken down to simple steps for clients to add new destinations or dates. Custom Tours Project Manager Dennis Han says that the new process has satisfied multiple groups.
"The process has been changed so that travelers can easily find what they want whether it is creating an entirely new tour or adjusting existing tours. From corporations to universities, recently many organizations have booked custom tours through our company because of the convenience and high-quality service that we offer." says Han.
As a part of the efforts to increase convenience, the company creates personalized web pages dedicated for each group. Within this personal page, members can find useful information related to their own tour including the itinerary, flight schedule, travel tips and more.
Furthermore, the dedicated web page allows an option for each member to access the page to book the custom tour individually, rather than having one tour leader pay in front for the entire group.
In addition to Charming Travel Destinations' expertise and booking process, the company's new niche tours allows many special interest organizations to find the perfect tours to customize. From adventure to culinary, organizations such as photography clubs, bicycle teams and corporations can find a tour that suits their interests and tailor them based on their needs.
To learn more about Charming Travel Destinations' custom tours, visit https://charmingtraveldestinations.com/custom-tours/
About Charming Travel Destinations
Charming Travel Destinations is a major tour operator in North America arranging exclusive group, independent, student and corporate travels. With over 25 years of knowledge and experience, Charming Travel Destinations promises the best quality performance, service and products in the travel industry. For more information, please visit https://charmingtraveldestinations.com/