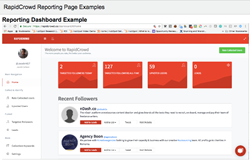 "Our tool is about growing with social media. Whether it is a startup, digital agency, or SMB - we provide effective, best practices for an incredibly powerful but misunderstood platform. We know your future customers are on Twitter—and we know how to engage them." - Erik Johnson, Co-Founder
(PRWEB) February 01, 2018
Cutting Through The Noise of Twitter
RapidCrowd is a social media tool that is specifically designed to help entrepreneurs and startup businesses increase brand exposure, lead generation, customer conversation rates and build a profitable community on Twitter. RapidCrowd includes many new features that help users better manage their Twitter following.
Some of the benefits to using RapidCrowd include:

Increasing targeted followers
Facilitating real connections
Increasing brand and business exposure
Monitoring and tracking leads
Avoiding bots and fake accounts
Integration with HubSpot and FullContact
Increasing conversion rates
RapidCrowd is available as both a FREE and paid software.
With the free version, users have access to weekly reporting, up to 20 targeted followers per month, five keywords and can connect one Twitter account. Users can also upgrade to the paid HyperGrowth plan for only $14 per month, which provides users with fully customizable reporting, up to 60 targeted followers per month, 20 keywords, website analytics and tracking, and a dedicated account manager.
About RapidCrowd
The lead developer and marketing automator behind RapidCrowd is Erik August Johnson (@eaj). Erik knew the Twitter platform could be improved and better utilized for engagement, so he spent months pondering, programming, and experimenting. After using his platform to grow his own personal Twitter account to over 10,000 real, engaged followers in less than two months, he knew he was on to something.
In 2015, collectively with his business partner—and lifelong friend, Jacob Carlson (@Jacobin617)—the two began working closely with startups, digital agencies, and small businesses to use intelligent automation to drive thousands of visitors to their websites, and growing their Twitter followings by several hundred thousand—leading to the birth of RapidCrowd.
The co-founders shared a vision: finding a better way to connect like-minded people, to help users cut through the noise, and to help facilitate real and valuable connections. With the power of RapidCrowd, users can avoid bots and fake accounts, and grow their businesses with Twitter.
For more information, follow us on Twitter @RapidCrowd.